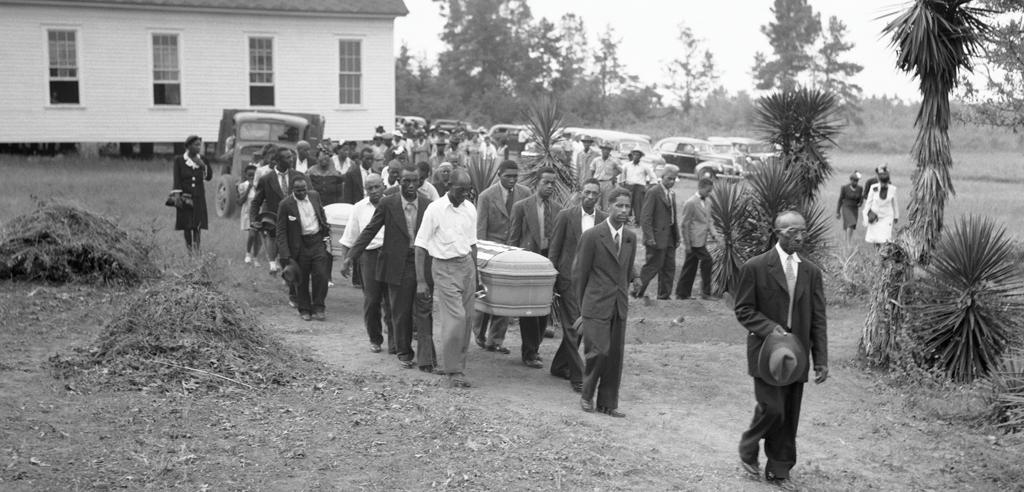 Mourners bury lynching victims George Dorsey and Dorothy Dorsey Malcolm in Monroe, Georgia, in 1946. (Bettman/Getty Images.)
History of Racial Injustice: The Trauma of Lynching
Southern lynch mobs killed more than 4000 black people between 1877 and 1950, with even wider impact. Lynchings aimed to terrorize all black people through arbitrary and deadly violence. In 1927, after lynching a black man named John Carter, a white mob in Little Rock, Arkansas, paraded his body through the black community's downtown center and ripped pews out of a prominent black church to fuel a bonfire on which they burned his corpse.
The risk of racial violence led many African Americans to flee the South. Between 1910 and 1970, national demographics shifted dramatically as nearly six million black refugees from Southern terror relocated to urban centers in the North and West. As one black man told the Chicago Defender newspaper, "After twenty years of seeing my people lynched for any offense . . . I made up my mind that I would turn the prow of my ship toward the part of the country where the people at least made a pretense at being civilized."
For many, lynching's deep traumatic and psychological wounds could not be left behind. In 1915, a young girl named Mamie Lang fled Ellisville, Mississippi, with her family after her father and his friend were threatened with lynching. In 1919, her father's friend, John Hartfield, returned and was brutally lynched before 10,000 spectators. In 2015, 107-year-old Mamie Lang Kirkland returned to Ellisville with several of her children and spoke of the horror she still felt. "They were after my father too," she said after visiting the lynching site. "That could have been him."