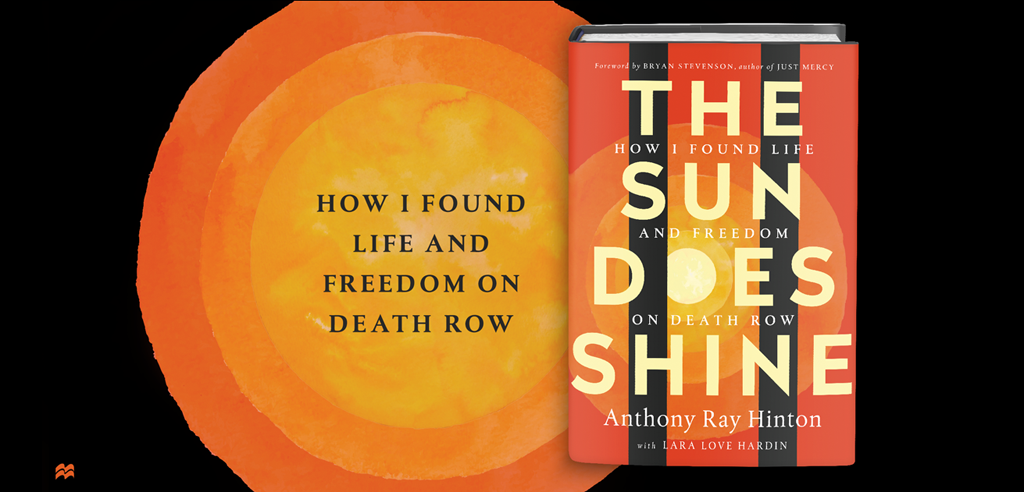 Anthony Ray Hinton's "The Sun Does Shine" Is Oprah Book Club Pick
On June 5, Oprah Winfrey revealed that her newest book club selection is Anthony Ray Hinton's The Sun Does Shine.
Anthony Ray Hinton spent nearly 30 years on death row for a crime he did not commit. He walked out of the Jefferson County Jail as a free man on April 3, 2015. "The sun does shine," he said as he was embraced by family and friends.
Officially released on March 27 by St. Martin's Press, Mr. Hinton's new book, The Sun Does Shine: How I Found Life and Freedom on Death Row, has been praised by critics as a powerful and revealing story of hope, love, justice, and the power of reading.
"An amazing and heartwarming story, it restores our faith in the inherent goodness of humanity."
- Archbishop Desmond Tutu
In 1985, Anthony Ray Hinton was arrested and charged with two counts of capital murder in Alabama. Stunned, confused, and only 29 years old, Mr. Hinton knew that it was a case of mistaken identity and believed that the truth would prove his innocence and ultimately set him free.
But with no money and a different system of justice for a poor black man in the South, Mr. Hinton was sentenced to death by electrocution. He spent his first three years on Death Row at Holman State Prison in agonizing silence ― full of despair and anger toward all those who had sent an innocent man to his death. But as Mr. Hinton realized and accepted his fate, he resolved not only to survive, but find a way to live on Death Row. For the next 27 years he was a beacon ― transforming not only his own spirit, but those of his fellow inmates, 54 of whom were executed mere feet from his cell. With the help of civil rights attorney and bestselling author of Just Mercy, Bryan Stevenson, Mr. Hinton won his release in 2015.
With a foreword by Bryan Stevenson, The Sun Does Shine is an extraordinary testament to the power of hope sustained through the darkest times. Destined to be a classic memoir of wrongful imprisonment and freedom won, Mr. Hinton's book tells the story of his dramatic 30-year journey and shows how you can take away a man's freedom, but you can't take away his imagination, humor, or joy.
Rave reviews for The Sun Does Shine:
"An urgent, emotional memoir from one of the longest-serving condemned death row inmates to be found innocent in America. ... A heart-wrenching yet ultimately hopeful story about truth, justice, and the need for criminal justice reform." – Kirkus
"Nelson Mandela spent 27 years in prison for opposing a racist system in South Africa. Anthony Ray Hinton spent 30 years on death row because a racist system still exists in America. Both emerged from their incarceration with a profound capacity to forgive. They are stunning examples of how the most horrendous cruelty can lead to the most transcendent compassion. The Sun Does Shine is both a cautionary tale for all who think that a great nation can easily forget its past and inspiring proof of the inability to condemn a man's capacity for hope, love, and joy. An amazing and heartwarming story, it restores our faith in the inherent goodness of humanity." - Archbishop Desmond Tutu
"No one I have represented has inspired me more than Anthony Ray Hinton and I believe his compelling and unique story will similarly inspire our nation and readers all over the world." - Bryan Stevenson, New York Times Bestselling Author, Just Mercy
"If there is ever a story that needs to be told, it is this one. Anthony Ray Hinton is extraordinary, an example to us all of the power of the human spirit to rise above complete injustice. He is using his experience as a way to turn the broken criminal justice system upside down. He is a brilliant storyteller, and his book will make people laugh, cry, and change their own lives for the better. It will also inspire people to never accept the unacceptable, like the death penalty. The Sun Does Shine will be a book that people all around the world will never forget." - Richard Branson
"I've met Anthony Ray Hinton, and he's an extraordinary man. He stands out among exonerees (and I know hundreds of them) for his dignity and gentle soul encased in his massive frame. His story is important and compelling. Bryan Stevenson, a national treasure and central character in this story, fought tirelessly for over fifteen years and won a rare and landmark case in the United States Supreme Court. The Sun Does Shine is the gripping and inspirational story that the public has been waiting for." - Barry Scheck, Attorney, Director of the Innocence Project
"[The Sun Does Shine], collaboratively written with Hardin, is a troubling, moving, and ultimately exalting journey through the decades Hinton lived under the threat of death while an unjust system that refused to acknowledge mistakes failed him repeatedly." - Booklist, starred review
"A memoir of spectacular grace...as moving and inspiring as memoirs get." - Garden & Gun
"In this intense memoir, [Anthony Ray] Hinton recounts his three-decade nightmare: awaiting execution for crimes he didn't commit. … Hinton's life is one of inspiration, which he wonderfully relays here in bitingly honest prose." - Publishers Weekly, starred review
"A testament to the power of faith and the strength of hope, The Sun Does Shine is an unforgettable and timely read that illuminates the long overdue need for criminal justice reform in America." - Bustle
Mr. Hinton now works at EJI as a Community Educator and we are extremely proud to support the launch of his extraordinary book.