Jamaal King, a 33-year-old African American man, was killed at Elmore Correctional Facility in Elmore, Alabama, this week during an assault in the prison.
Mr. King is the 14th person murdered in an Alabama prison since the U.S. Department of Justice informed Alabama officials that the state's prison system "routinely violates the constitutional rights of prisoners" by failing to protect them from rampant violence and sexual abuse.
The homicide rate in Alabama prisons is unparalleled in the U.S. prison system. Earlier this year, the federal Bureau of Justice Statistics published data on mortality in state and federal prisons between 2001 and 2016. Nationwide, the homicide rate in state prisons in 2016 was 8 per 100,000 prisoners.
Alabama's homicide rate in 2016 was 13 per 100,000 prisoners, and has continued to escalate. The number of homicides rose to 11 in 2017, 10 in 2018, and a staggering 16 homicides in 2019. The 2019 homicide rate in Alabama prisons reached 76 per 100,000 prisoners—more than nine times the national rate.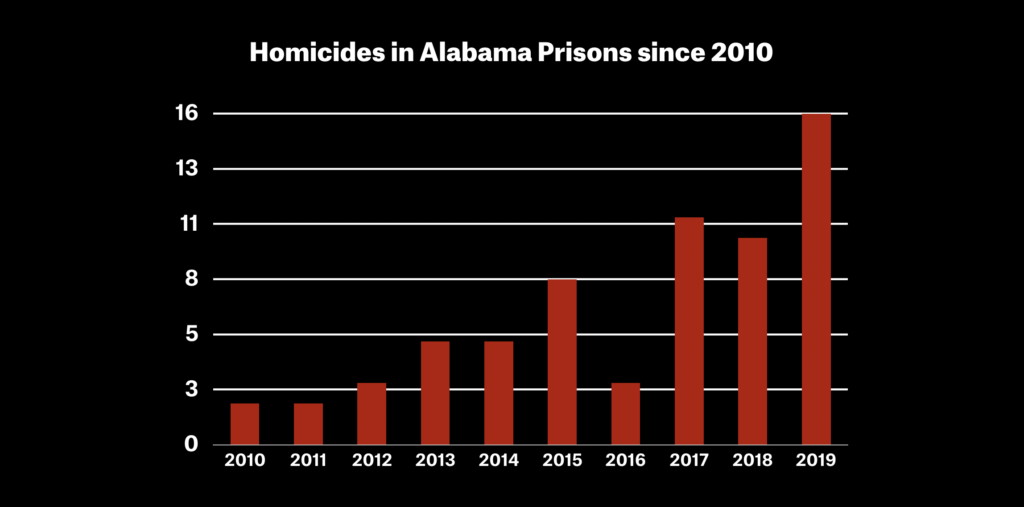 Stabbings and sexual violence are also at record levels. Last year, the rate of assaults on incarcerated people in Alabama prisons was 70 assaults per 1,000 prisoners—more than four times the most recently reported national average of 16.25 assaults per 1,000 prisoners.1 Census of Adult State and Federal Correctional Facilities At Elmore Correctional Facility, where Mr. King was murdered, the assault rate last year was 80 per 1,000 incarcerated people.
The Justice Department found that management practices in Alabama prisons have "greatly contributed to the high level of violence." Inadequate reporting and insufficient review and assessment following incidents of prison violence also contribute to the persistent violence.
The recent deaths come at a time when concerns over the spread of Covid-19 have further isolated Alabama's prisoners, contributing to rising assault rates and prison deaths.
EJI is currently investigating more than two dozen deaths in Alabama prisons in the last two months. Fifteen of the deceased were under the age of 50, including Colony Wilson, a 41-year-old African American woman who died after she sought medical help for chest pains but was turned away by staff at the Birmingham Women's Community Based Facility and Community Work Center. The number of deaths among incarcerated people is up dramatically from the monthly average before the Covid-19 outbreak.