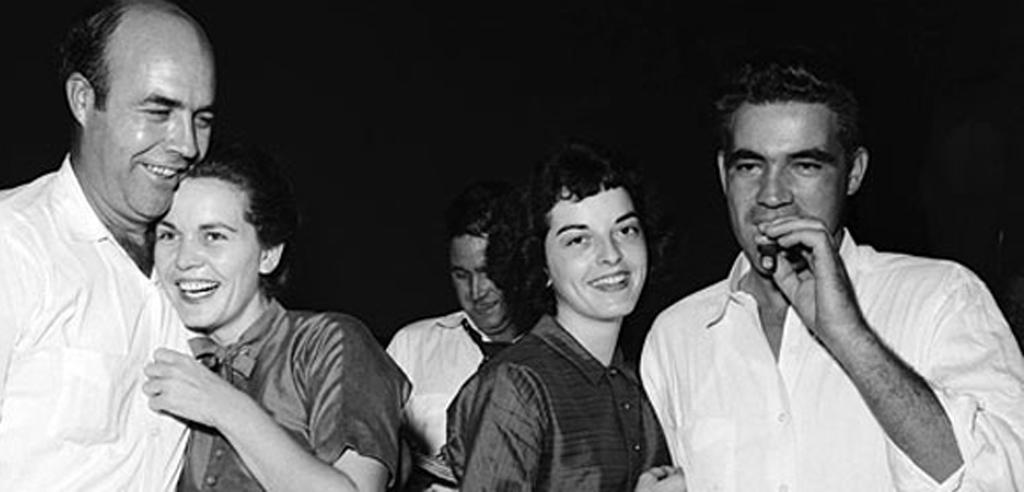 Carolyn Bryant (right) celebrates her husband's acquittal in the torture-murder of Emmett Till, 1955.
Emmett Till's Accuser Admits She Lied
January 31, 2017
Carolyn Bryant testified in 1955 that 14-year-old Emmett Till grabbed her and verbally threatened her three days before her husband and brother-in-law abducted and tortured the teenager to death. Five decades later, she confessed, "That part's not true."
In August 1955, the Chicago youth was visiting family in Sumner County, Mississippi, when he entered Roy Bryant's country store to buy some bubble gum. Bryant's wife, Carolyn, was working in the store and spent about one minute alone with Till before others heard him whistle at her. (As Vanity Fair reports, he was said to have a lisp and may not have actually whistled.)
Outraged, Roy Bryant and his half-brother, J.W. Milam, abducted Till and tortured him to death. The two men were indicted and tried in September 1955. During the three-day trial, prosecutors presented courageous testimony from Moses Wright, Till's great-uncle who witnessed his abduction, and Willie Reed, an African American sharecropper who overheard Bryant and Milam torturing Till.
The defense claimed that the mutilated body discovered in the Tallahatchie River was not that of Emmett Till. Defense lawyers also put on the record testimony from Carolyn Bryant.
On the stand, she had asserted that Till had grabbed her and verbally threatened her. She said that while she was unable to utter the "unprintable" word he had used (as one of the defense lawyers put it), "he said [he had]'"—done something – "with white women before.'" Then she added, "I was just scared to death."
After deliberating for just over one hour, the all-white, all-male jury announced a not-guilty verdict on September 23, 1955. All but one juror later admitted that they believed Bryant and Milam were guilty of murder, but chose to acquit because the mandatory punishment (life imprisonment or death) seemed too harsh to impose upon white men for killing a black boy.
Four months after the trial, Bryant and Milam admitted their guilt in a Look magazine article. The magazine reportedly paid them some $4000 for their confessions, in which they graphically detailed their abduction of Emmett Till from his uncle's home, admitting that they pistol-whipped him, forced him to disrobe, tied a heavy cotton-gin fan around his neck with barbed wire, shot him, and dumped his body in the Tallahatchie River.
Carolyn Bryant never spoke publicly about the incident. But in 2007, at age 72, she told Duke University senior research scholar Timothy Tyson that she had lied about Till having made verbal and physical advances on her. In a new book, The Blood of Emmett Till, Tyson writes that she told him, "Nothing that boy did could ever justify what happened to him."
Emmett Till's mother, Mamie Till Bradley, defiantly held an open-casket funeral in Chicago, where thousands gazed in horror at his mutilated body. To show the world the fate that had befallen Emmett, Mrs. Bradley also distributed a photograph of his corpse for publication in newspapers and magazines, later explaining that "the whole nation had to bear witness to this."