EJI has received multiple reports that a man incarcerated at Ventress Correctional Facility in Clayton, Alabama, died following a stabbing incident. Curtis Williams, a 43-year-old African American man, was assaulted in a prison dormitory and sustained serious injuries. He was evacuated to a hospital, where he was taken off life support and died on April 19.
Mr. Williams is the fifth person in less than a year to be killed at Ventress, a medium security prison in southeastern Alabama that houses over 1,200 incarcerated people. Five homicides in under a year is a striking number—even in a prison system that federal investigators have described as one of the most violent in the country.
In 2019, the rate of assaults on people incarcerated in Alabama prisons was 70 assaults per 1,000 people. That's more than four times the most recently reported national average of 16.25 assaults per 1,000 inmates.1 Bureau of Justice Statistics, "Census of State and Federal Adult Correctional Facilities." The assault rate at Ventress was 165 per 1,000—more than twice the Alabama average and more than 10 times the national average.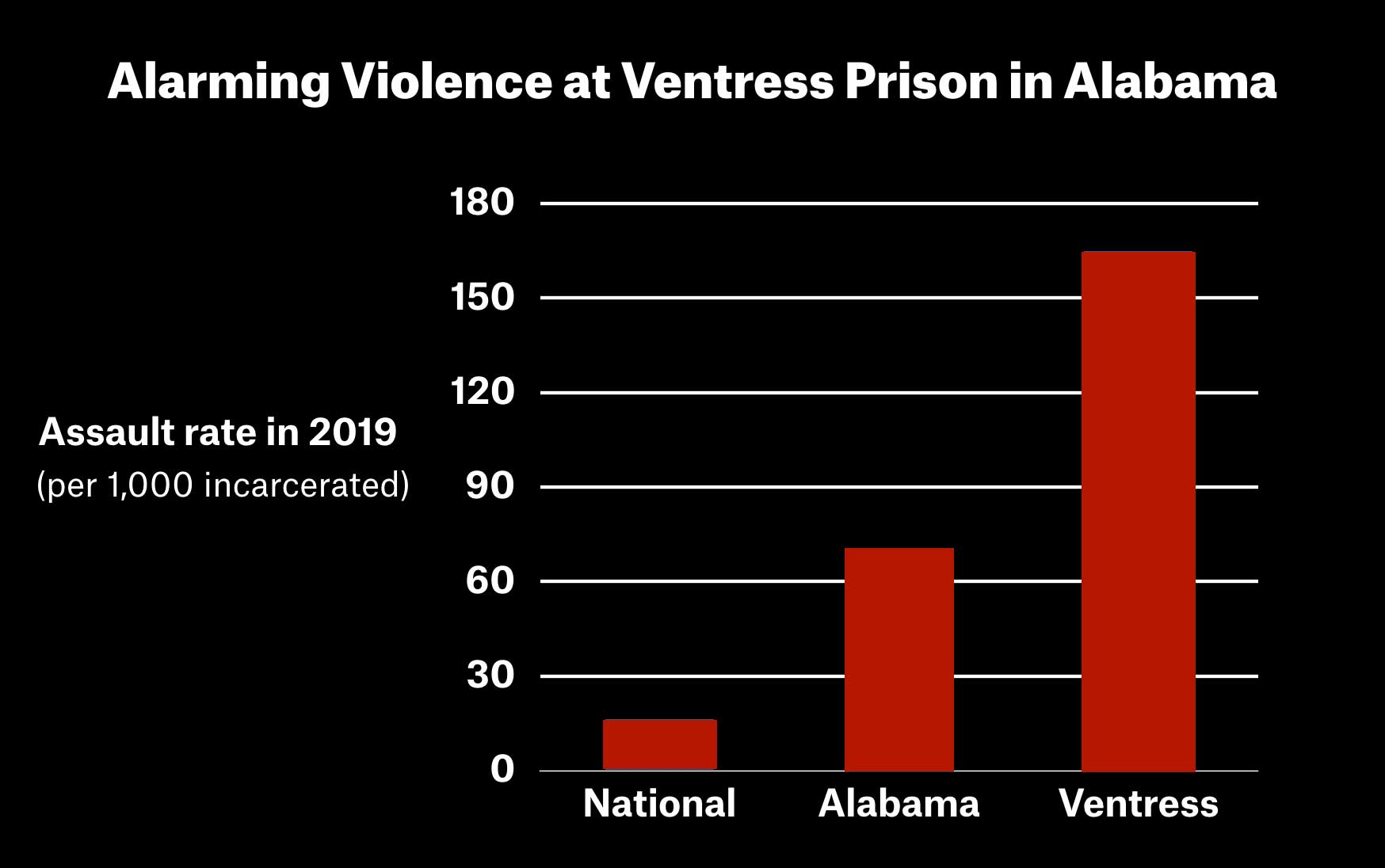 By comparison, the rate of assaults on people incarcerated in Mississippi's three state-run prisons in 2019 was 42.1 per 1,000 inmates. Even though that rate is about four times lower than at Ventress, the U.S. Department of Justice launched an investigation in February to assess whether Mississippi's corrections department is adequately protecting prisoners from harm after a spike in assaults and homicides.
In Alabama, there is little accountability for institutional wardens and leaders when violence within prisons takes place. The leadership at Ventress has gone through many different hands in the decade since officers beat to death 24-year-old Rocrast Mack in 2010, which led to convictions for four correctional officers. Since the retirement of Warden J.C. Giles in 2011, the top warden at Ventress has changed five times.
Management practices at Alabama prisons have been found by the Justice Department to have "greatly contributed to the high level of violence." Inadequate reporting and insufficient review and assessment following incidents of prison violence also contribute to the persistent violence.
The recent deaths at Ventress come at a time when people in the state's prisons are even more isolated from family, friends, and lawyers. The Alabama Department of Corrections has stopped all visits—including legal visits—for more than a month due to concerns over the spread of Covid-19.
Since April 1, ADOC has confirmed the deaths of four incarcerated people—including three reported deaths from undisclosed causes in less than two weeks. A fourth man, 66-year-old Dave Thomas, died on April 16, less than 24 hours after testing positive for Covid-19.