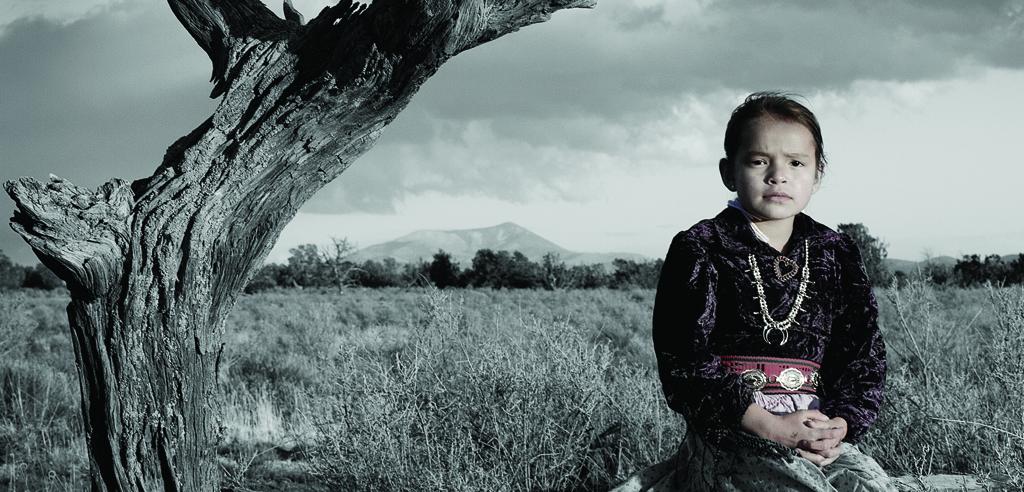 Bahazhoni Tso sits in front of the Holy San Francisco Peaks near Flagstaff, Arizona, in peaceful protest to protect the peaks, which are sacred to the Navajo Nation, from being developed into a ski resort, 2012. (Matika Wilbur.)
History of Racial Injustice: Native Lives Matter
On July 12, 2015, police in Denver, Colorado, shot and killed Paul Castaway, a mentally ill Lakota man who was threatening to commit suicide. A few months earlier, a Native American man named Allen Locke was killed in similar circumstances, one day after he attended a "Native Lives Matter" rally in Rapid City, South Dakota.
Amid increased national attention to racial disparities in police shootings and imprisonment, statistics reveal that Native Americans are disproportionately incarcerated and are most likely to be killed by law enforcement. In South Dakota, Native Americans comprise 9 percent of the total population but 29 percent of those in prison. Native children make up more than 70 percent of juveniles held by the Federal Bureau of Prisons and are confined more frequently than white children. 
Native American communities face high rates of substance abuse, depression, suicide, and violence. For many, these indicators of suffering are directly linked to historical traumas inflicted by past injustice in this country, including genocide, land theft and forced relocation, involuntary cultural assimilation, and resultant isolation and poverty.
"Historical trauma is something that goes from generation to generation . . . [and] is very much steeped in a history of people," explained Portland State University Professor Judy Bluehorse Skelton as part of the Transcending Historical Trauma oral history project by the Oregon-based nonprofit Wisdom of the Elders. "We look back to . . . the genocide, the violence committed against men and women and children. This history lives on in us."