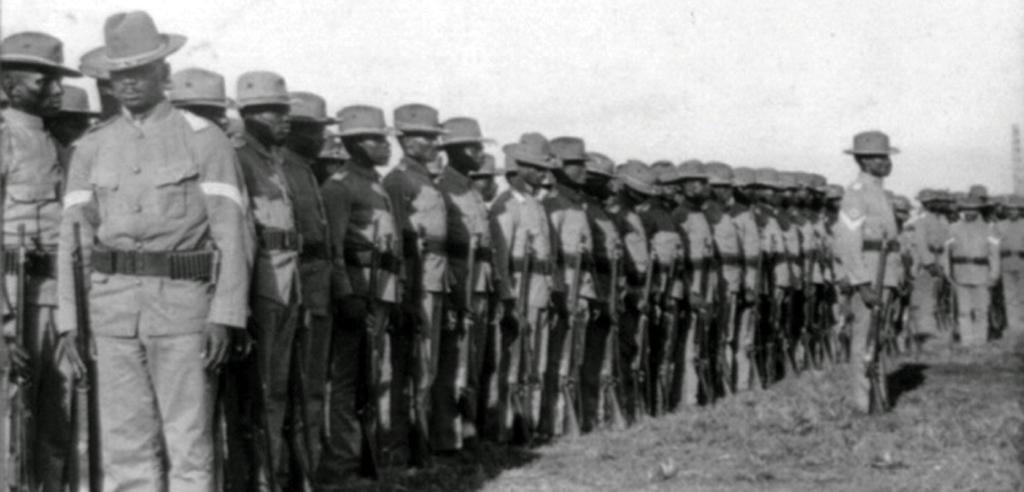 The 24th Infantry at drill, Camp Walker, Philippine Islands, 1902.
The Legal Lynching of Sergeant Edgar Caldwell
Beginning in the 1920s, racial terror lynchings became increasingly disfavored because of the "bad press" and negative attention they attracted to Southern communities and officials. In response, Southern legislatures pursued capital punishment as a "lawful" alternative to lynching, using rushed and biased trials, court-imposed death sentences, and formal executions to shield officials from criticism while still achieving the same ends.38 Black veterans were often the victims of "legal lynchings" during this era, and one such case involved Sergeant Edgar Caldwell.
In 1918, Sergeant Caldwell was a decorated member of the United States Army's 24th Infantry Regiment, stationed at Camp McClellan near Anniston, Alabama. On Friday, December 13, 1918, he boarded an Anniston streetcar. The white conductor became angry when the black soldier sat in the white section of the car, and accused Sergeant Caldwell of not paying his fare. Sergeant Caldwell insisted he had paid and the two men argued. The conductor tried to throw Sergeant Caldwell off the car, but he resisted and they struggled. The conductor called the motorman to help him, and both white men punched Sergeant Caldwell and threw him to the ground, then continued beating and kicking him. Sergeant Caldwell drew his revolver and fired, killing one of the white men and seriously wounding the other.
Military authorities arrived at the scene but, contrary to protocol, they surrendered Sergeant Caldwell to local police rather than detain him for a military investigation. Local white residents and officials were outraged that a black soldier would dare pull a gun on white men. Sergeant Caldwell was tried, convicted of murder, and sentenced to death by hanging just five days after the shooting. Every juror was white.39
Anniston's black community successfully urged the national NAACP to appeal the case, but the Alabama Supreme Court affirmed Sergeant Caldwell's conviction and death sentence in July 1919.40 The United States Supreme Court heard the case, and a national publicity campaign about the proceedings attracted support and donations from black servicemen across the country.41 The Court ultimately rejected the appeal. Sergeant Caldwell was hanged before a crowd of 2500 spectators on July 30, 1920, in the yard of the Calhoun County jail.42