The Buncombe Community Remembrance Project and the MLK Association of Asheville and Buncombe County partnered with EJI to dedicate three historical markers today in memory of three documented victims of racial terror lynching in Buncombe County: John Humphries (1888), Hezekiah Rankin (1891), and Bob Brackett (1897).
The dedication ceremony took place in downtown Asheville at Pack Square Park, where the marker memorializing John Humphries stands near the jail where a white mob abducted the teenager before he was lynched.
The marker memorializing the lynching of Bob Brackett is located at Triangle Park in The Block, a historically Black business district in Asheville. The third marker, which memorializes the lynching of Hezekiah Rankin, was erected in front of the Craven Street Bridge in the River Arts District near the site where he was lynched.
Over 200 community members gathered at Pack Square Park on a rainy Saturday morning for the opening ceremony. The program began after a musical selection by local performing arts group Westsound Productions, which provided the soundtrack for the event. Coalition liaison and Vice Chair of the MLK Association of Asheville and Buncombe County Dr. Joseph Fox made opening remarks. Civil rights liaison and MLK Association Chair Dr. Oralene Simmons spoke about the coalition's formation and how community stakeholders came together to advance the Historical Marker Project, as well as a Soil Collection Project and Racial Justice Essay Contest.
Asheville Mayor Esther Manheimer connected the work of the Buncombe Community Remembrance Project to the city's commitment to contemporary racial justice work, including a reparations initiative that is underway in Asheville. County Commissioner Brownie Newman offered remarks reflecting on various manifestations of racial injustice in Buncombe County today and emphasized the need to end mass incarceration, housing discrimination, and the devastation of urban renewal projects.
Coalition liaison and Buncombe County Schools educator Eric Grant recognized the winners of the EJI Racial Justice Essay Contest and teachers who supported the contest. The three winners—Sarah Ann Buchanan of North Buncombe High School, Jennifer Russ of the School of Inquiry and Life Sciences in Asheville, and Montana Gura of Asheville High School—were invited to read their essays at the marker unveilings, which took place at the site of the markers following the main ceremony. The Rev. Brent La Prince Edwards centered the audience in prayer throughout the ceremony and unveilings.
The Lynching of John Humphries
On July 15, 1888, a mob of 25 to 40 white men lynched John Humphries, a Black teenager. On July 14, the daughter of a white planter reported being assaulted in the woods. Race-based suspicion was immediately directed towards Black men and boys. Later that evening, without any evidence connecting him to the assault, police nonetheless arrested John Humphries.
Police officers forced the teen to change into a striped shirt and remove his shoes so that he would fit the description of the alleged assailant before they took him to the planter's home, where a false identification was obtained. John was jailed. The following morning, a masked mob broke into the jail and law enforcement unlocked the cell doors, allowing the mob to kidnap John. The mob then hung the child from a tree within a few hundred yards of the jail. White mobs regularly displayed complete disregard for the legal system and the constitutional rights of their Black victims.
Law enforcement routinely failed to protect Black people in their custody, even though they had a legal obligation to do so. As in this case, officers sometimes directly assisted or even participated in lynchings. Although two people—including the sheriff—identified at least one mob member by name, no one was held accountable for the racial terror lynching of John Humphries.
The Lynching of Hezekiah Rankin
On September 24, 1891, a mob of at least 20 unmasked white men lynched a Black man named Hezekiah Rankin. Earlier that evening, Mr. Rankin's white coworker at the Western North Carolina Railroad wanted him to perform duties unrelated to his job. Mr. Rankin declined, having been reprimanded previously for performing that same task. Insulted that Mr. Rankin refused the request of a white man, Mr. Rankin's coworker threw lumps of coal at his face. Mr. Rankin left.
When he returned, he was verbally accosted by his coworker, leading to an encounter during which Mr. Rankin was accused of shooting the man. A group of at least 25 white railroad employees and local residents seized Mr. Rankin and held him in a nearby roundhouse. Law enforcement were notified but did not intervene. That night, the mob hanged Mr. Rankin from a tree along the French Broad River, just south of Smith's Bridge near the current River Arts District.
During this era, white lives held heightened value and any form of Black-on-white violence, including in self defense, could spark white rage, mob violence, and lynching. Despite eyewitness testimony that identified mob members, a jury concluded that Mr. Rankin was killed "at the hands of parties unknown." Charges initially brought against four men were dropped, and no one was held accountable for lynching Mr. Rankin.
The Lynching of Bob Brackett
On August 11, 1897, Bob Brackett, a Black man, was lynched by a mob of at least 1,000 white people in Reems Creek Township in Buncombe County, North Carolina.
Mr. Brackett was a traveling laborer working in the Asheville area. On August 8, 1897, a white woman from Weaverville reported an assault.
Race-based suspicion was immediately focused on Black men in the area. On August 10, despite a lack of evidence and no investigation, a mob of white men seized Mr. Brackett at the home of a local reverend in nearby Barnardsville.
Mr. Brackett was detained in the Buncombe County Jail in Asheville. A white mob stormed the jail, only to discover that the sheriff had taken Mr. Brackett on the train to Raleigh. Determined to lynch Mr. Brackett, the mob abducted him from the sheriff at the Terrell train station and marched him 12 miles to the location of the reported attack on the woman. Before they reached Weaverville, the mob lynched Mr. Brackett on the grounds of the Hemphill School.
During this era, unfounded suspicion was regularly directed at African Americans, who were burdened with a presumption of guilt that made them vulnerable to lawless white mob violence, especially when a white woman reported an assault. Racial terror lynchings were bold acts to maintain white domination, and mob participants acted with impunity. No one was ever held accountable for the lynching of Bob Brackett.
Buncombe Community Remembrance Project
The Buncombe Community Remembrance Project formed in June 2019 as an effort led by the MLK Association of Asheville and Buncombe County. The group hosted a series of meetings with representatives from over 25 organizations in the community, including educational institutions, cultural centers, city and county offices, advocacy groups, and faith institutions.
The coalition created workgroups to focus on different tasks related to advancing the project to install historical markers as well as educational outreach. They continued to meet virtually throughout the pandemic and leveraged a monthly e-newsletter to keep community stakeholders informed about the Community Remembrance Project and other efforts to advance racial justice throughout the county. Among some of the issues addressed in the newsletter are the disparate impact of Covid-19 on communities of color, reparations efforts in Asheville, and voting rights in North Carolina.
The Buncombe Community Remembrance Project launched an EJI Racial Justice Essay Contest in the spring semester of 2021 and gained participation from over 50 students in public high schools throughout the county.
In May 2021, the coalition hosted a soil collection ceremony to memorialize Mr. Brackett, Mr. Humphries, and Mr. Rankin by collecting soil from the sites of their lynchings. The coalition plans to support community members in traveling to Montgomery to visit the Legacy Museum and the National Memorial for Peace and Justice in 2022.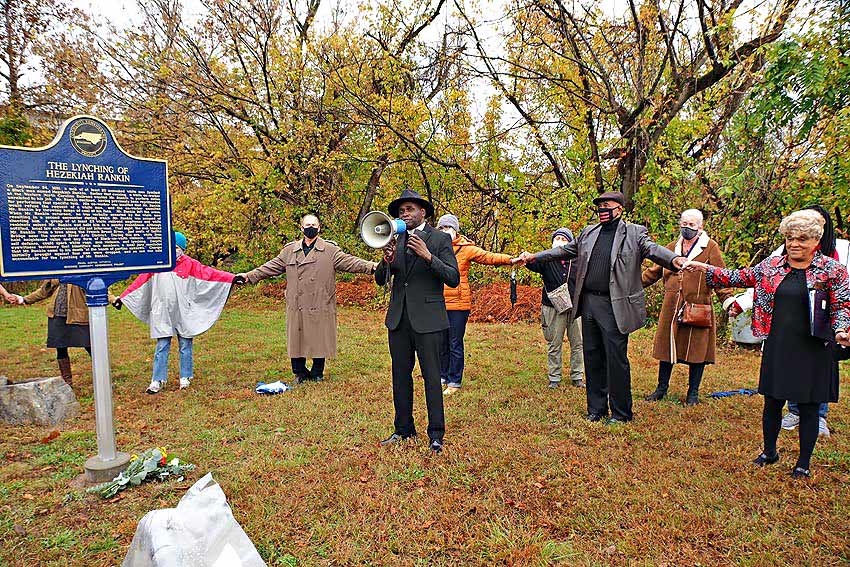 Angela Wilhelm/Citizen Times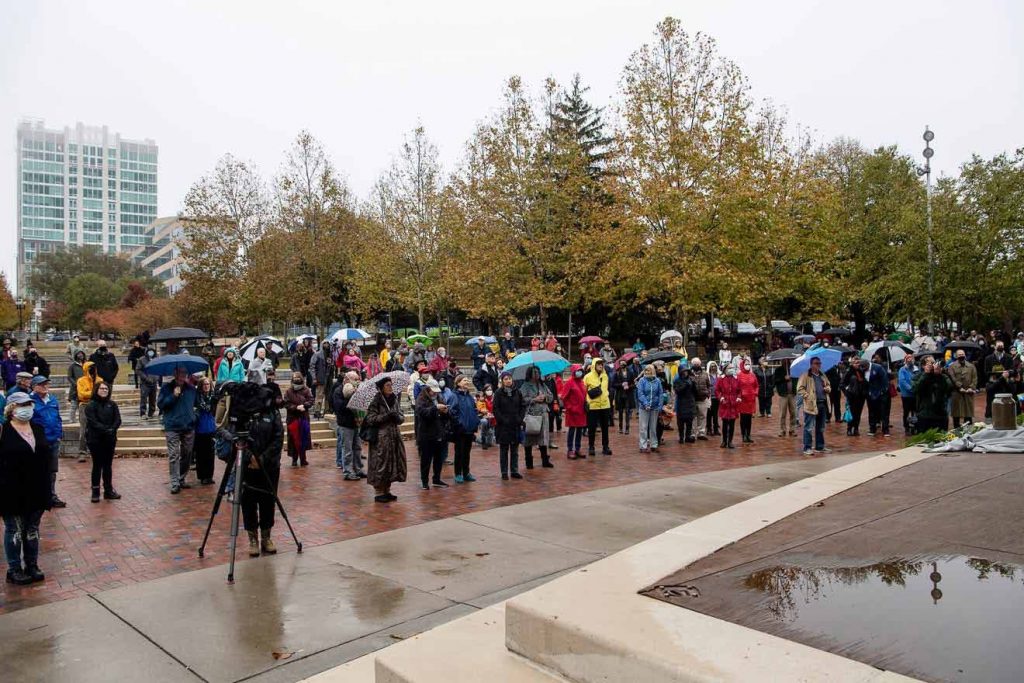 Angela Wilhelm/Citizen Times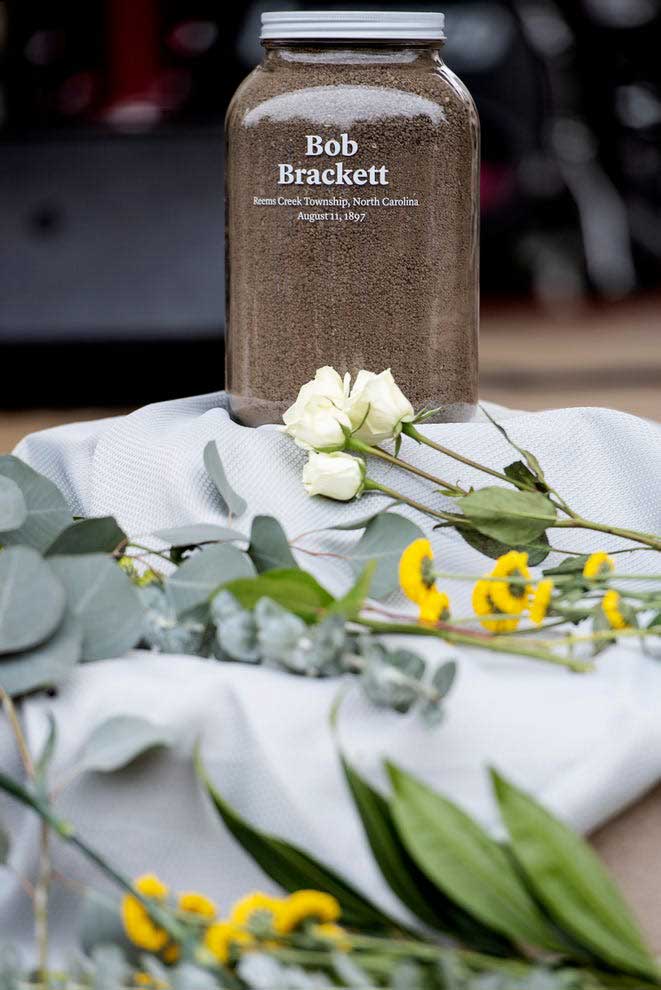 Angela Wilhelm/Citizen Times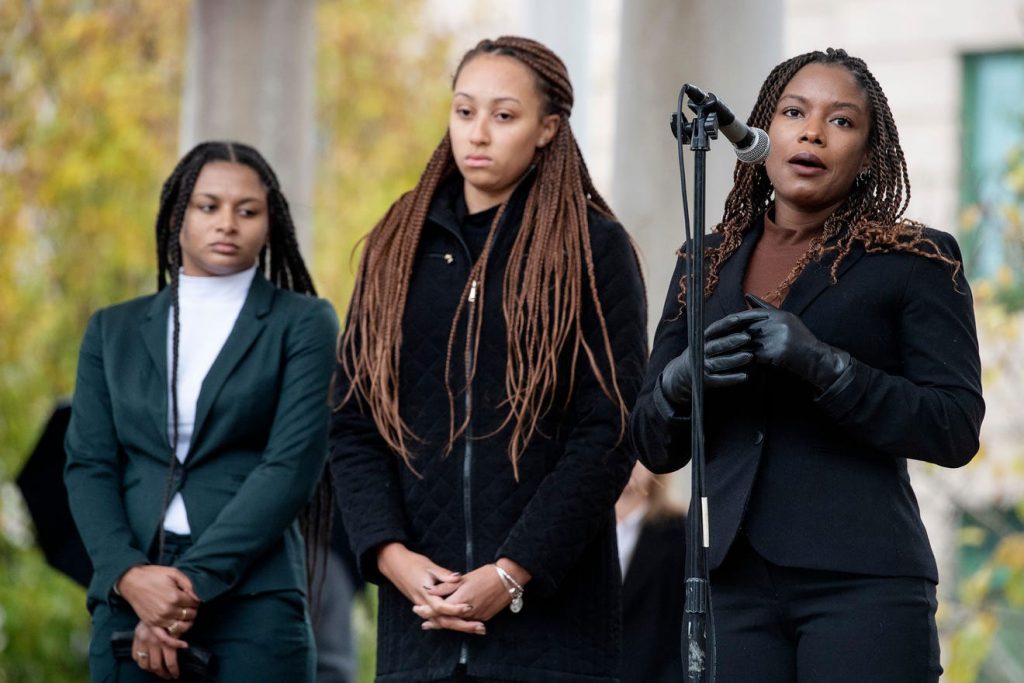 Angela Wilhelm/Citizen Times
Lynching in America
Based on EJI's Lynching in America and Reconstruction in America research, EJI has documented nearly 6,500 racial terror lynchings in America between 1865 and 1950. After slavery ended, many white people remained committed to racial hierarchy and used lethal violence and terror against Black communities to maintain a racial, economic, and social order that oppressed and marginalized Black people. Lynching became the most public and notorious form of racial terrorism and created a legacy of injustice that can still be felt today.
Of the hundreds of Black people lynched under accusation of alleged crimes, nearly everyone was brutally killed without being legally convicted of any offense. Many African Americans were lynched for perceived violations of social customs, engaging in interracial relationships, or being accused of crimes even when there was no evidence tying the accused to any offense. White mobs regularly displayed complete disregard for the legal system, seizing their victims from jails, prisons, courtrooms, or from police custody without fear of legal repercussions for the lynchings that followed. In this environment of official indifference, racial terror remained systematic, far reaching, and devastating to the Black community for generations.
Although many victims of racial terror lynching will never be known, 120 racial terror lynchings have been documented in North Carolina between 1877 and 1950, with three documented victims in Buncombe County.
Community Remembrance Project
The Community Remembrance Project is part of EJI's campaign to recognize the victims of lynching by collecting soil from lynching sites, erecting historical markers, and developing the National Memorial for Peace and Justice, which acknowledges the horrors of racial injustice.
As part of our effort to help towns, cities, and states confront and recover from tragic histories of racial violence and terrorism, EJI is joining with communities to install historical markers in communities where the history of lynching is documented. The narrative historical markers that now stand in Asheville are among more than 50 narrative markers sponsored by EJI to date.
We believe that understanding the era of racial terror is critical if we are to confront its legacies in the challenges that we currently face from mass incarceration, excessive punishment, police violence, and the presumption of guilt and dangerousness that burdens people of color today.