On February 8, Dexter Freeman was stabbed to death at St. Clair Correctional Facility. Mr. Freeman, a 38-year-old Black man, was scheduled to complete his 15-year prison sentence this November.
Mr. Freeman is the 14th person murdered in an Alabama prison in the past year. EJI has recorded 53 homicides in the state's prisons since 2017.
Last year, Alabama's prison homicide rate of 69 homicides per 100,000 incarcerated people was nearly nine times the most recently reported national average.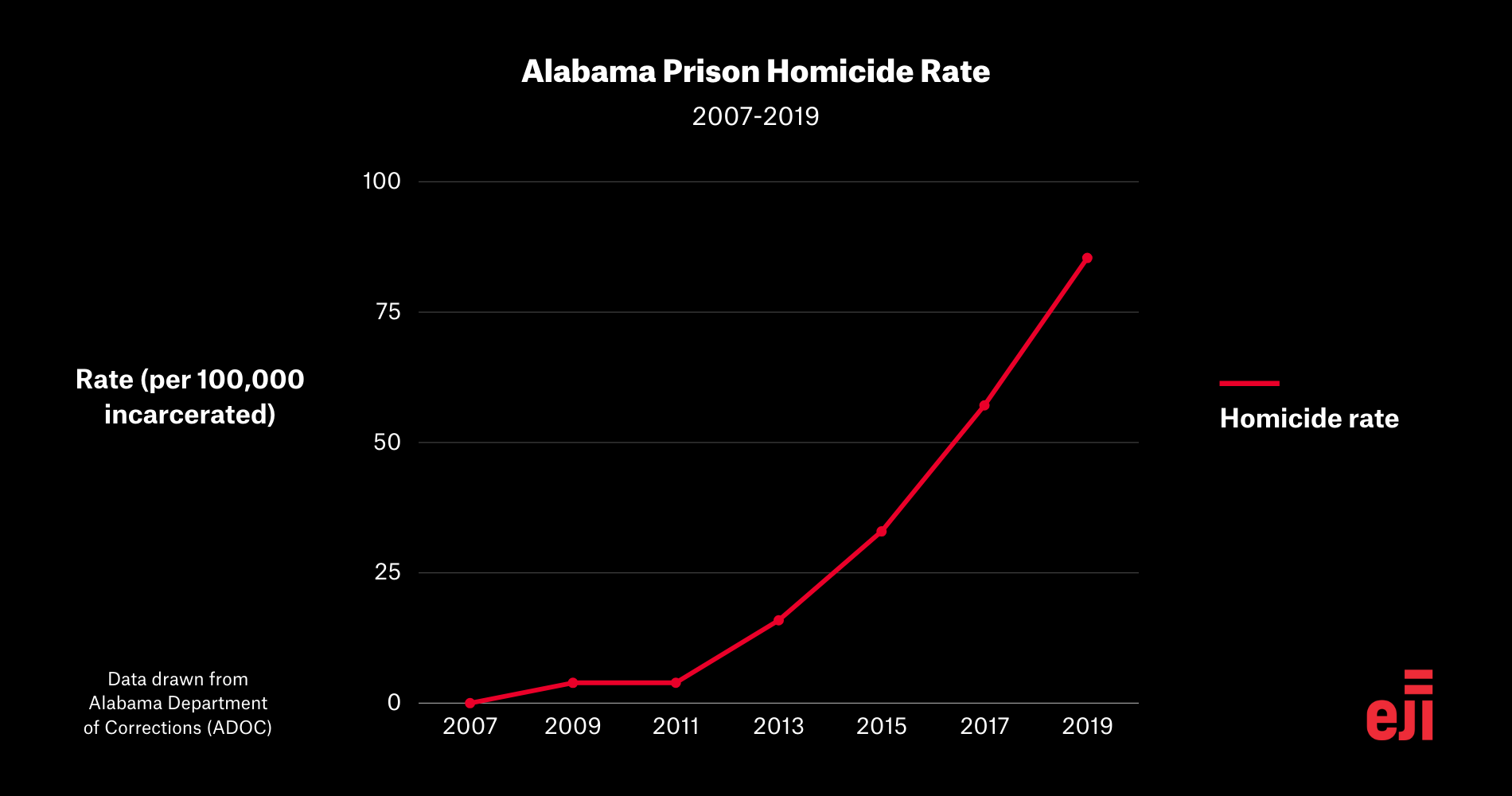 The true homicide rate is likely higher. The Alabama Department of Corrections has reported multiple deaths in custody as "natural" even though violence has been confirmed surrounding some of these deaths; others are under investigation, which in some instances has taken years.
The U.S. Department of Justice wrote in their April 2019 findings letter that "there are numerous instances where ADOC incident reports classified deaths as due to 'natural' causes when, in actuality, the deaths were likely caused by prisoner-on-prisoner violence. This is especially concerning given that these incident reports are used for public statistical reporting as required by law."
Mr. Freeman was stabbed in a housing unit where mismanagement has been documented repeatedly. Reports received by EJI indicate that he died in the same housing unit where numerous other homicides and stabbings occurred over the last year.
Mismanagement and leadership issues have continued to plague the prison for years. Three St. Clair wardens have been terminated or demoted for serious misconduct—Cedric Specks was dismissed in 2018 for "predatory sexual exploitation of subordinates," Dewayne Estes was placed on mandatory paid leave for "the best interest of the Department [of Corrections] due to the nature of the allegations against [him]," and Errol Pickens was demoted for insubordination.
Three sergeants were reprimanded or terminated for assaulting prisoners or being involved in criminal activity in the prison during that time.
The absence of effective management and leadership has contributed to an environment where homicides and violent assaults remain a serious problem.