The United States is one of the top incarcerators of women in the world, and a striking number of women incarcerated in America have not been convicted of a crime.
The Prison Policy Initiative reports that 219,000 women are incarcerated in the United States, and more than a quarter of them have not yet had a trial.
Overall, state prisons hold twice as many people as local jails, but incarcerated women are nearly evenly split between state prisons and local jails. Of the 96,000 women in local jails, 60 percent have not been convicted of a crime.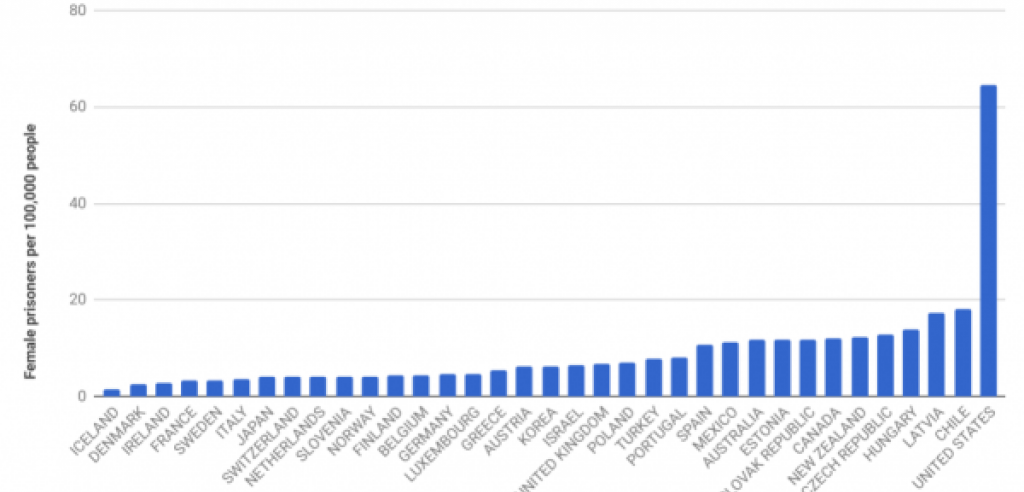 The report observes that this high rate of pre-trial incarceration of women is likely not attributable to courts deciding that women, who are generally the primary caregivers of children, are a flight risk. Instead, women are disproportionately locked up while awaiting trial because, compared with men, they are unable to afford cash bail.
An earlier study found that women who could not make bail had an annual median income of just $11,071. A typical bail amount is $10,000.
The report further found that about a quarter of convicted women who are incarcerated are held in jails, compared to about 10 percent of all convicted incarcerated people. Jails make it harder to stay in touch with family: phone calls are more expensive (up to $1.50 per minute) and other forms of communication are more restricted (some jails limit mail to postcards only). "This is especially troubling given that 80% of women in jails are mothers," the report observes.
A third of Americans under correctional control are incarcerated, but only 16 percent of women under correctional supervision are incarcerated. Fully 75 percent are on probation and 9 percent are on parole. Probation often comes with unrealistic conditions that make women especially vulnerable to being incarcerated for probation violations, including expensive fees that women are least able to afford and meetings with probation officers that burden women who have no extra money for babysitters or reliable transportation.
Compared to other industrialized countries, America's mass incarceration of women is arguably worse than it is for men. The Week's Ryan Cooper analyzed data for members of the Organization for Economic Cooperation and Development and found that the United States' overall incarceration rate is almost six times the median rate, but the rate for women is more than 10 times the median.
For individual states, the picture is even worse. West Virginia incarcerates so many of its women that if it were a country, its female incarceration rate alone would put it in second place overall in the OECD.