On January 15, the Gwinnett Remembrance Coalition in partnership with EJI unveiled a historical marker memorializing Charles Hale, a Black man who was lynched by a white mob in downtown Lawrenceville, Georgia, on April 8, 1911. Due to ongoing Covid-19 concerns, the coalition held a virtual ceremony with recorded statements from coalition members, city and county officials, and students.
The Rev. Inger Williams, niece of Charles Hale, spoke on behalf of the family about their Uncle Charlie and the legacy that lives through his descendants. A local pastor shared a committal and Ms. Williams sprinkled soil collected from the site of her ancestor's lynching at the base of the historical marker.
The coalition worked with the City of Lawrenceville to build a memorial site for the installation of the historical marker. The site includes benches where visitors can sit and reflect as they read the marker. The site will serve as a place of remembrance and education for future generations.
At the end of the ceremony, the student winners of the Gwinnett County Racial Justice Essay Contest were announced. Makayla Thompson and Jacob Bell tied for first place and read their essays as part of the program.
The Lynching of Charles Hale
Shortly after midnight on April 8, 1911, a mob of at least 200 white men lynched a Black man named Charles Hale in downtown Lawrenceville. The mob broke into the Lawrenceville jail and abducted Mr. Hale from his cell, with no resistance from the police officers who were armed and responsible for protecting him. The mob dragged Mr. Hale to a telephone pole near the Gwinnett County Courthouse, hanged him, and then shot his body repeatedly.
Law enforcement took no action and allowed his body to hang until the next day, when white families, including children, posed for photographs with Mr. Hale's mutilated body. The photographs show a sign hanging from Mr. Hale that reads, "Please do not wake him."
According to news reports, a white farmer had reported on April 7 that his wife had been assaulted. The sheriff formed a posse of white men to hunt down the alleged assailant. They encountered Mr. Hale in the nearby woods and captured him.
The mob lynched Mr. Hale before he had the chance to defend himself against the accusation. County officials eventually had Mr. Hale's body removed and buried in a paupers cemetery, but did not hold a coroner's inquest or identify mob participants.
None of the mob participants or the county officials who failed to intervene were held accountable for the lynching of Charles Hale.
Gwinnett Remembrance Coalition
The Gwinnett Remembrance Coalition formed in fall 2020. On Juneteenth 2021, the coalition hosted a soil collection ceremony in remembrance of Charles Hale that was attended by many community members.
The Gwinnett Remembrance Coalition acknowledges, remembers, and educates the community about the county's violent and racist past. The project honors the memory of Gwinnett's victims of racial violence—those whose names are known and those whose names are lost to history—by working with EJI to erect a fitting memorial that inspires the community to come together, fostering conversations about historical and current injustices, and enabling dialogue, trust, and healing.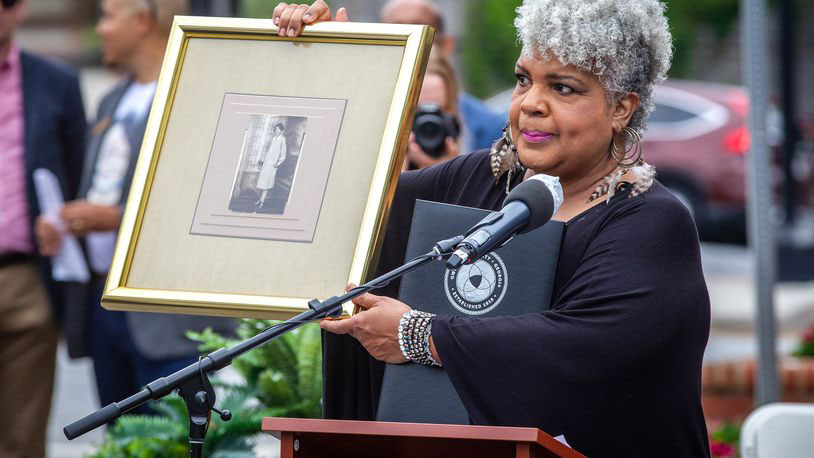 Steve Schaefer/Atlanta Journal Constitution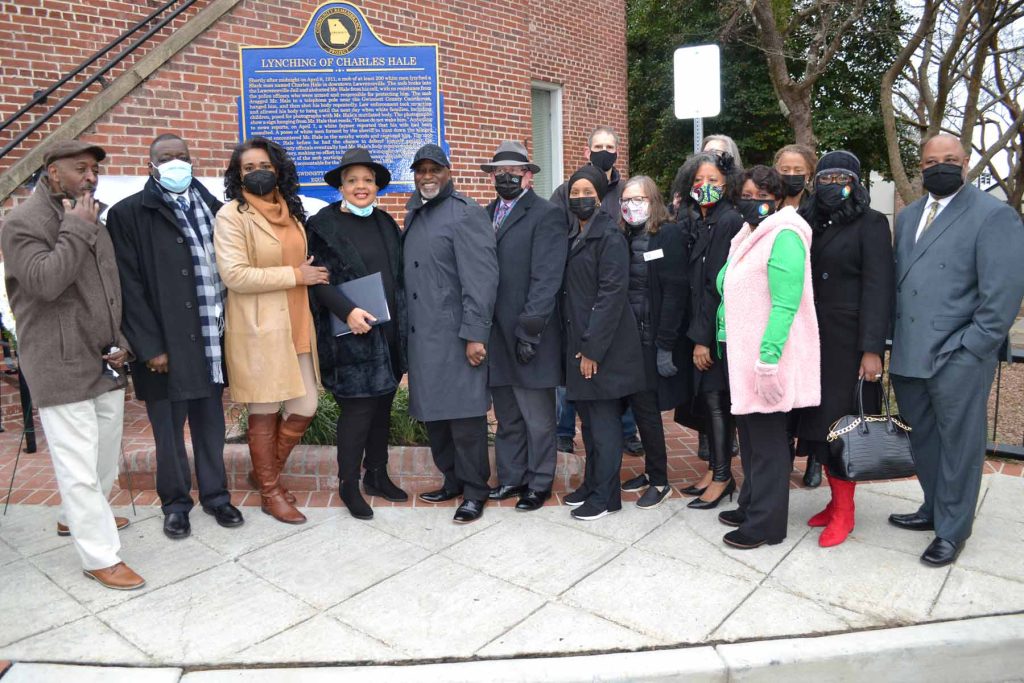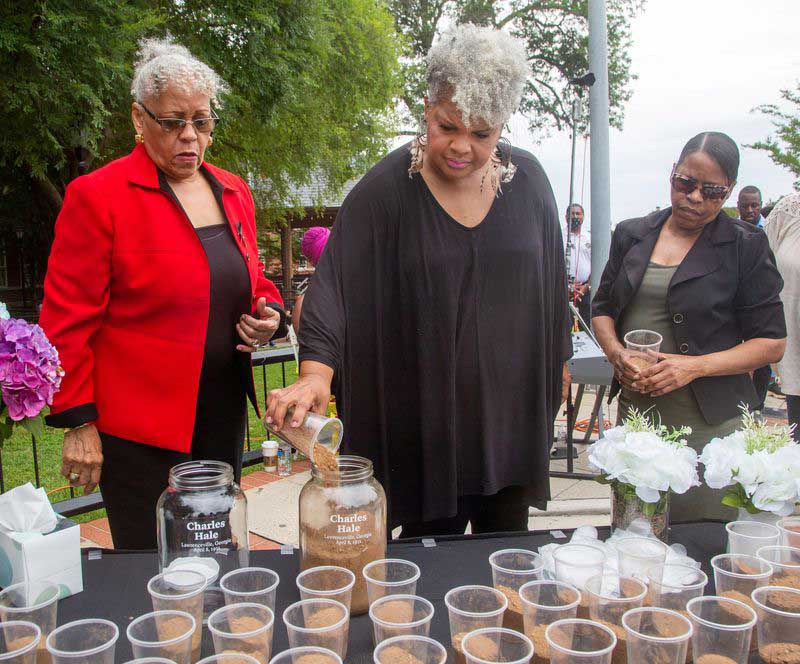 Steve Schaefer/Atlanta Journal Constitution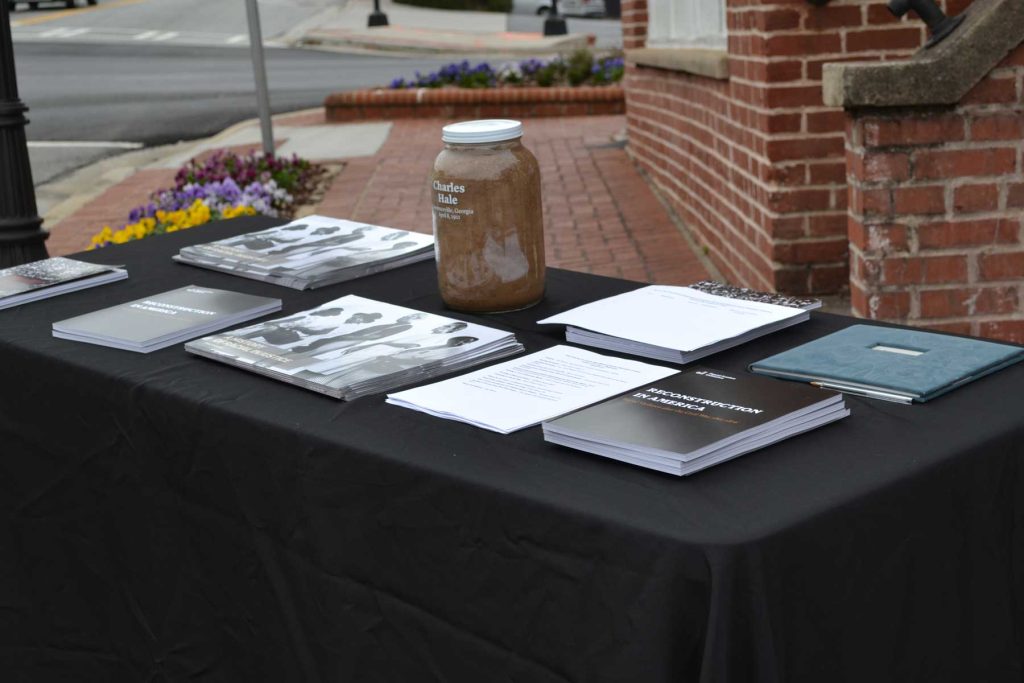 Lynching in America
Thousands of Black people were victims of lynching in the U.S. between 1865 and 1950. During this era, lynching emerged as the most notorious and public form of racial terrorism, used to enforce racial hierarchy and segregation. Public spectacle lynchings, like the lynching of Charles Hale, were often committed in prominent community locations and attended by hundreds to thousands of white men, women, and children without fear of legal repercussions.
Lynch mobs often inflicted extreme violence on their victim's body of a victim and often put mutilated corpses on display to instill fear in the Black community.
Mobs routinely abducted Black people from courts, jails, and out of police custody. Local, state, and federal officials tolerated—and sometimes encouraged and participated in—these lawless killings of Black women, men, and children, especially by granting impunity to mob participants, who rarely faced criminal or communal consequences for their lawlessness.
Although many victims of racial terror lynching will never be known, over 593 lynchings have been documented in Georgia, with at least one known to have taken place in Gwinnett County.