On May 22, dozens of people gathered on the Wicomico County Courthouse lawn to dedicate a historical marker in remembrance of three Black people lynched in Salisbury, Maryland, between 1898 and 1931.
The historical marker describes the lynchings of Garfield King, Matthew Williams, and one man whose name remains unknown. It is the first marker to acknowledge victims of racial terror lynchings on Maryland's Eastern Shore.
The Wicomico Truth and Reconciliation Initiative partnered with EJI and local organizations to plan an afternoon of events. Dozens of Salisbury residents and descendants of the lynching victims marched to the courthouse, shared somber reflections, and committed to further action towards racial justice.
"If we are brave enough to talk about this history, as terrible as it is, then maybe we can be brave enough to talk about police brutality, mass incarceration, the school-to-prison pipeline," local organizer James Yamakawa said.
"This marker is a challenge to tell the truth no matter how uncomfortable it is; not just the truth about who we were, but who we are. If we can tell the truth then, together, we can figure out where we're going."
The Lynching of Garfield King
On May 26, 1898, Garfield King, an 18-year-old Black man, was murdered by a white lynch mob of more than 100 people at the Wicomico County Jail in Salisbury, Maryland.
According to newspaper reports, Mr. King maintained that he had shot a white man in self defense during an altercation, but he was never afforded the dignity of a trial or even an investigation. Instead, Mr. King was brutally killed by a mob.
In the early morning hours, the mob of white people broke into the jail, forced open the cell where Mr. King was confined, and dragged him out. Once outside, the mob tied a clothing line around Mr. King's neck, hanged him, and fired dozens of bullets into his body.
Members of the mob left the site with pieces of the lynching rope as souvenirs, news accounts said. Garfield King's horribly mangled body was then cut down and placed in the old Salisbury engine house, where hundreds of local residents came to see it the following morning.
In the days following Mr. King's lynching, a grand jury heard testimony from more than 50 witnesses, all of whom testified that they were unable to identify any participant of the lynch mob. The jury concluded that Mr. King was killed by "persons unknown," and no one was ever held accountable for his death.
The Lynching of Matthew Williams
On the evening of December 4, 1931, a white mob lynched a 23-year-old Black man named Matthew Williams in Salisbury, Maryland.
Mr. Williams had suffered gunshot wounds to his leg and shoulder after an exchange of gunfire with his white employer. He was receiving medical treatment when the mob dragged him from the hospital and lynched him on the courthouse lawn. According to records from the Maryland Archives, news of Mr. Williams's admission to Peninsula General Hospital angered many local white people, who gathered on the lawn chanting, "Let's lynch him!"
When the mob stormed the building, they faced little resistance. The hospital superintendent reportedly told them, "If you must take him, do it quietly." The mob dragged Mr. Williams from his hospital bed, beat him, and repeatedly stabbed him with an ice pick before hanging him from a tree in front of the Wicomico County Courthouse in central Salisbury. After the hanging, Mr. Williams's corpse was cut down, dragged a few blocks from the courthouse, doused in gasoline, and set on fire.
Addie Black last saw her nephew earlier that morning. She recalled that Matthew was laughing and playing with some of the younger children in the neighborhood. The next time she saw him, Matthew's charred corpse was all that remained.
The horrific public torture of Matthew Williams was not only intended to harm him—it was also to send a message of white dominance to terrorize the entire Black community. Local authorities and hospital officials did little to prevent Mr. Williams's lynching and nothing to punish the lynchers. On March 18, 1932, after hearing testimony from 124 witnesses, a local grand jury concluded that it "did not have sufficient evidence to return an indictment."
The Lynching of "Unknown"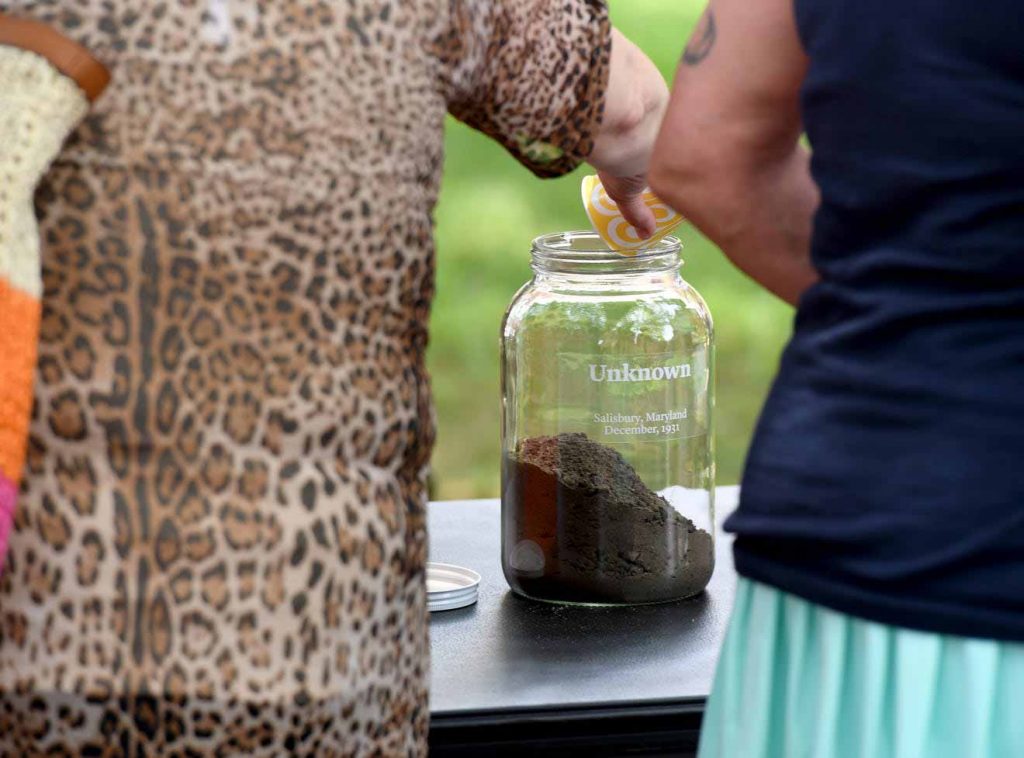 On the morning of December 6, 1931, the dead body of a Black man was found on the corner of College Avenue and Railroad Street in Salisbury, Maryland. According to newspaper reports, this man was the second victim of the white mob that had lynched Matthew Williams two days earlier.
In the days following the murder of Matthew Williams, city officials warned African Americans not to leave their homes because the streets of Salisbury—dubbed Maryland's "Lynch Town"—were not safe for any person of color. White mobs reportedly roamed the streets targeting any unprotected Black person they encountered, including the lynching victim whose name remains unknown.
The man's corpse was dressed in blood-soaked overalls, a sweater, a khaki shirt, and worn Army shoes. He was approximately 35 years old, weighed about 160 pounds, and police found bacon and half a ham, wrapped in brown paper, near his body. Authorities concluded that the man had likely gone to the grocery store on the evening of December 5 and was attacked and murdered by the mob on his way home.
It was not uncommon for a lynch mob's focus to expand beyond a specific person accused of an offense to target family members, neighbors, and other Black people unfortunate enough to cross their path. Many African Americans were lynched not because they were accused of a crime, but simply because they were Black and present after the initial lynching was complete.
Wicomico Truth and Reconciliation Initiative
The Wicomico Truth and Reconciliation Initiative was formed in Salisbury, Maryland, in 2018. The coalition, led by James Yamakawa and Amber Green, is a local movement that seeks to address the community's history of white supremacy through education and advocacy.
The group hosted a soil ceremony to honor the three victims of lynching in Salisbury. The jars of soil are on display at the Legacy Museum in Montgomery, Alabama. The coalition continues to partner with the City of Salisbury Lynching Memorial Task Force and the Maryland Lynching Memorial Project to advance their efforts. In 2020, the group organized a candlelight vigil for victims of racial terror.
The Wicomico Truth and Reconciliation Initiative is currently working with EJI to host a Racial Justice Essay Contest. This contest is an opportunity for public high school students in Wicomico County to win scholarships for writing essays that confront the U.S.'s history of racial injustice.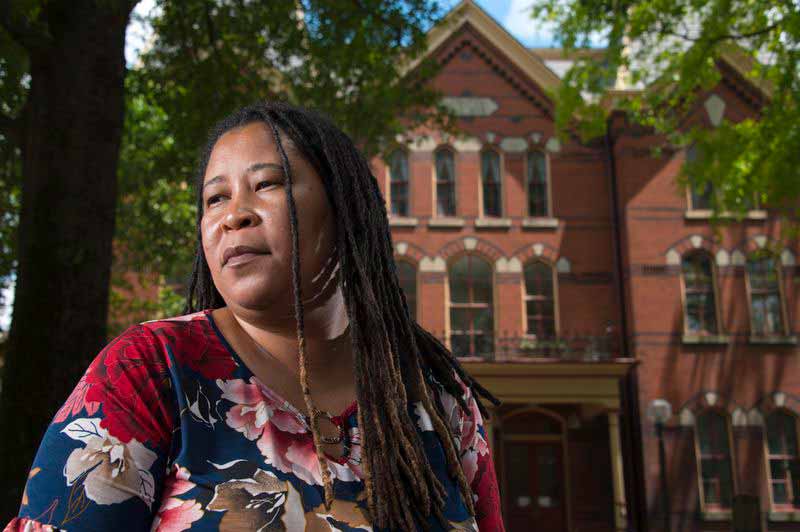 Karl Merton Ferron/The Baltimore Sun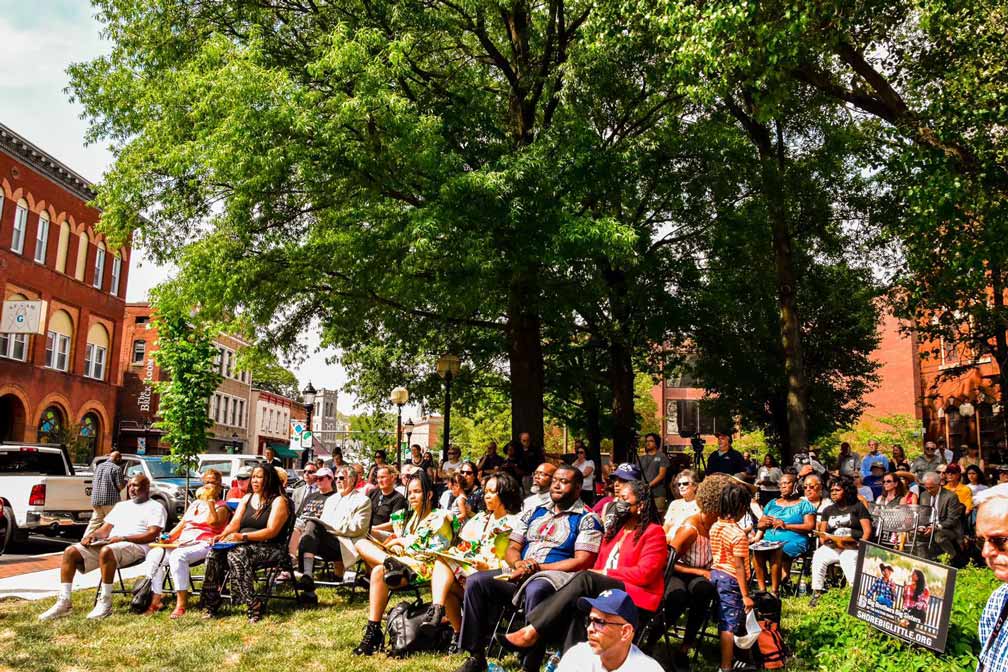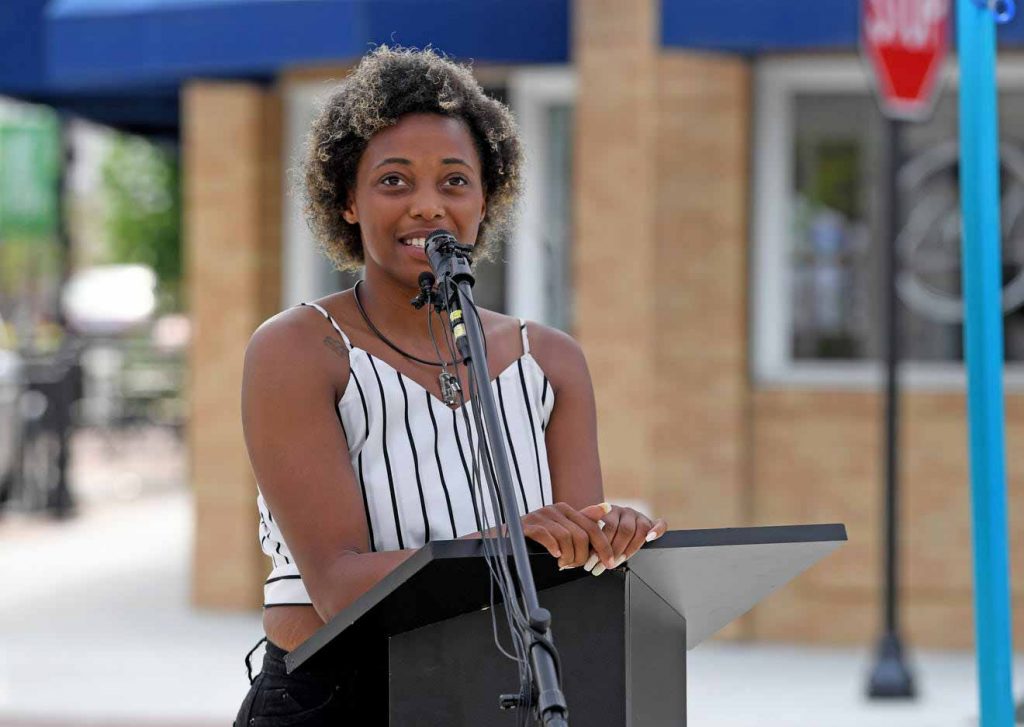 Lauren Roberts/Salisbury Daily Times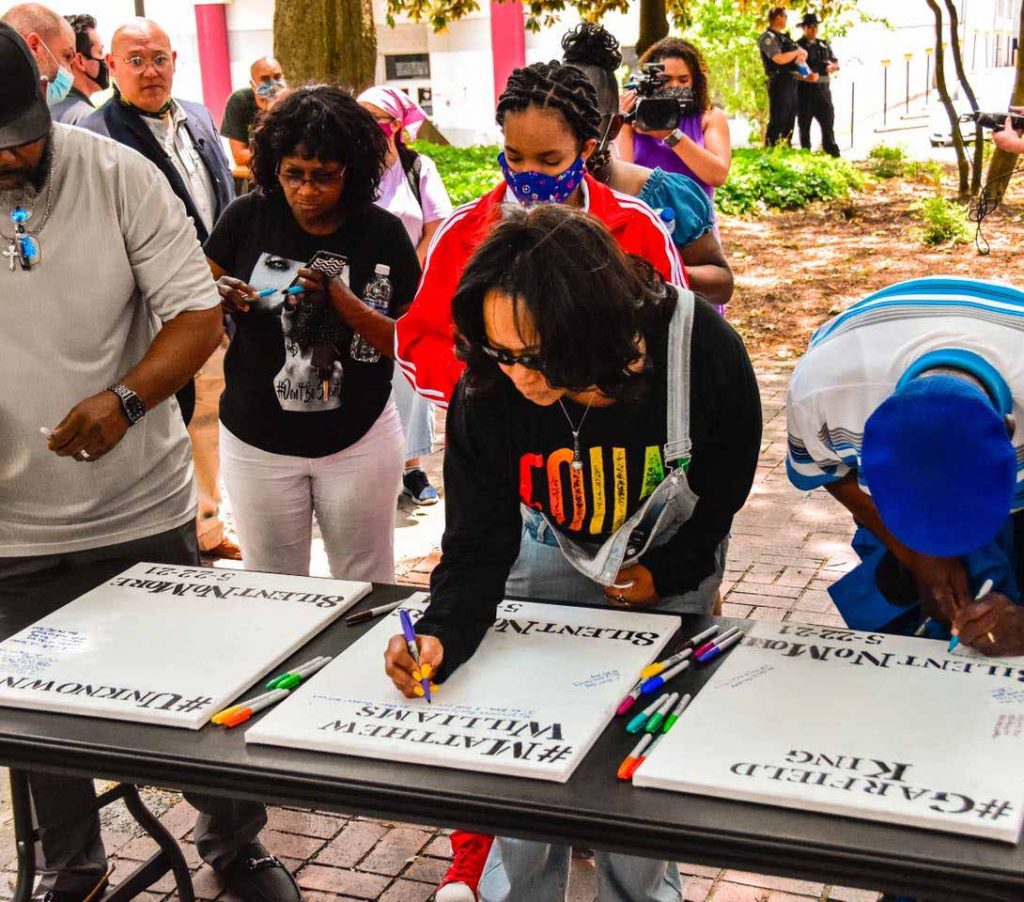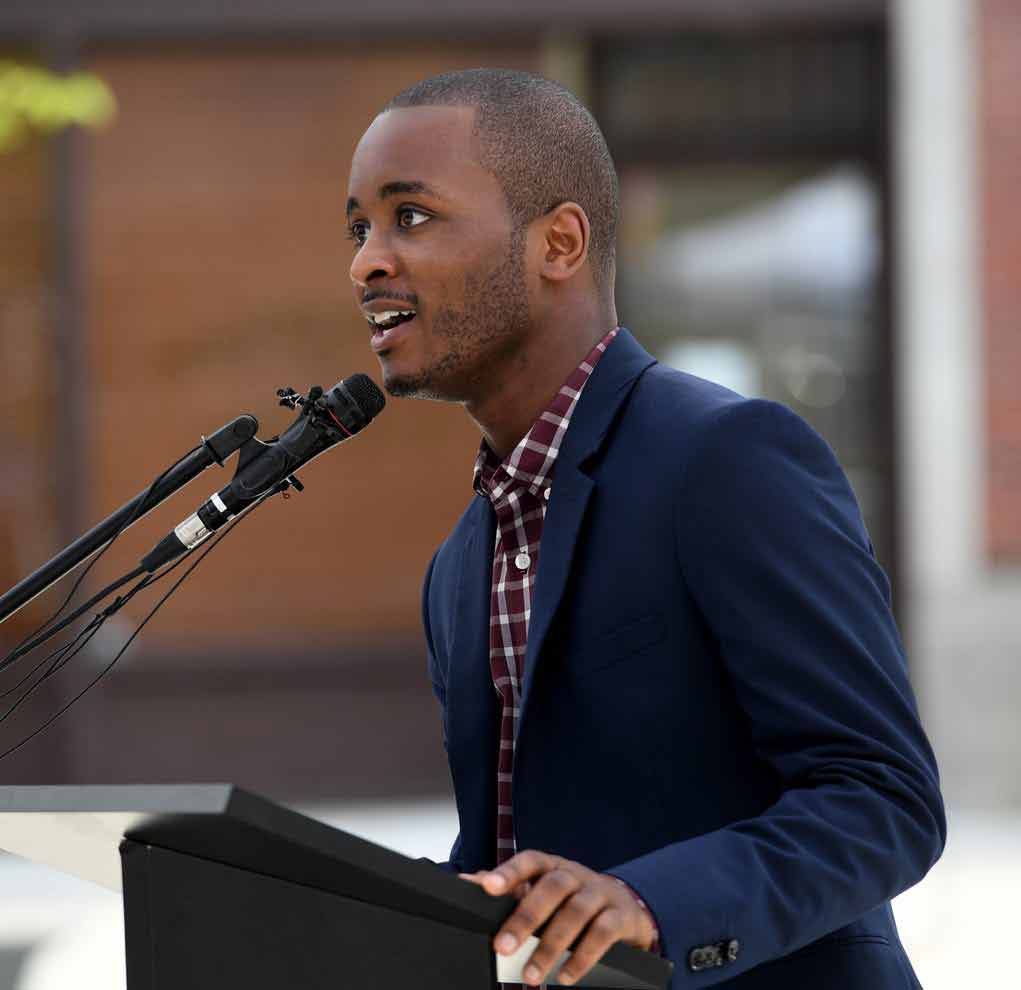 Lauren Roberts/Salisbury Daily Times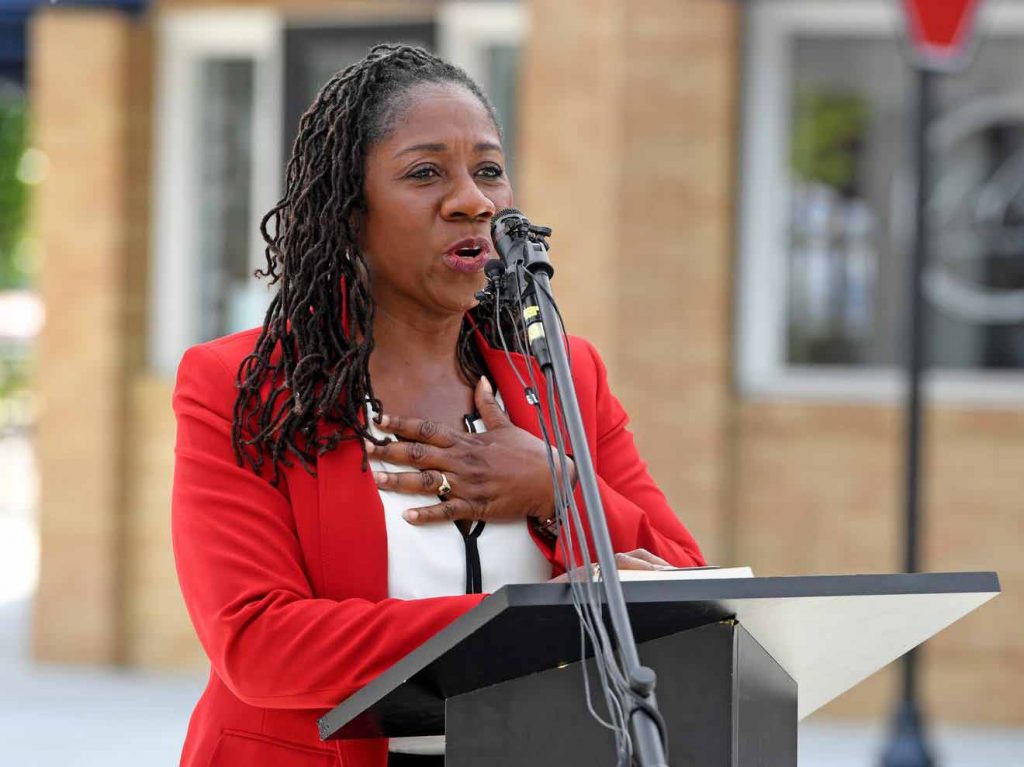 Lauren Roberts/Salisbury Daily Times
Lynching in America
In Lynching in America and Reconstruction in America, EJI has documented nearly 6,500 racial terror lynchings in America between 1865 and 1950. Thousands more Black people have been killed by white mob lynchings whose deaths may never be discovered. The lynching of African Americans was a form of racial terrorism intended to intimidate Black people and enforce racial hierarchy and segregation.
Lynching became the most public and notorious form of terror and subordination. White mobs were usually permitted to engage in racial terror and brutal violence with impunity. Many Black people were pulled out of jails or given over to mobs by law enforcement officials who were legally required to protect them. Terror lynchings often included burning and mutilation, sometimes in front of crowds numbering in the thousands.
In response to this racial terror and violence, millions of Black people fled the South and could never return, which deepened the anguish and pain of lynching. Many of the names of lynching victims were not recorded and will never be known.
EJI's Community Remembrance Project
EJI's Community Remembrance Project is part of our campaign to recognize the victims of lynching by collecting soil from lynching sites, erecting historical markers, and developing the National Memorial for Peace and Justice, which acknowledges the horrors of racial injustice.
As part of its effort to help towns, cities, and states confront and recover from tragic histories of racial violence and terrorism, EJI is joining with communities to install historical markers in communities where the history of lynching is documented.
We believe that understanding the era of racial terror is critical if we are to confront its legacies in the challenges that we currently face from mass incarceration, excessive punishment, police violence, and the presumption of guilt and dangerousness that burdens people of color today.