The Community Remembrance Project of Forsyth County partnered with EJI to install a historical marker on January 23 in remembrance of Rob Edwards, a Black man who was lynched in Cumming, Georgia, in 1912.
The marker stands in downtown Cumming at the corner of East Courthouse Square and West Maple Street, near where Mr. Edwards was lynched.
On September 10, the CRPFC hosted a marker dedication ceremony on the 109th anniversary date of the lynching of Rob Edwards. The marker commemorating the lynching in 1912, which forced the 1,098 Black residents of the county to flee mob violence, was unveiled by Rob Edwards's descendants, Larry Nuckles and Leroy Grogan. Elon Osby, whose grandparents and mother were among those forced to flee the county, was the keynote speaker at the event.
"This marker will be a tangible display of the truth and reconciliation that we need to move forward," coalition liaison Jolie Creuser said. "We cannot achieve unity without accountability."
The Lynching of Rob Edwards
On September 10, 1912, a 24-year-old Black man named Rob Edwards was lynched and hung in downtown Cumming, Georgia. During this era, deep racial hostility burdened Black people with presumptions of guilt, often resulting in accusations that were unfounded and unreliable. Mr. Edwards was one of several Black men arrested on suspicion of involvement in the fatal assault of a young white woman named Mae Crow.
At least 2,000 white residents of Forsyth County formed a mob and stormed the jail. They found Mr. Edwards in his cell, brutally beat him with a crowbar, and shot him repeatedly. The mob then dragged Mr. Edwards through the streets to the town square, where they hung his mutilated body and left it on display. Subsequently, two Black teenagers who were also arrested for Mae Crow's assault, Ernest Knox and Oscar Daniels, were convicted by all-white juries after trials that lasted one day each. They were hanged before thousands of white spectators.
Mr. Edwards's lynching and the mob violence that followed terrorized the remaining 1,098 Black residents of Forsyth County, who fled the county in fear. The loss of Black-owned property in order to flee arbitrary mob violence was common during this era, and Forsyth's Black residents left behind their homes and farms to escape, taking with them only what they could carry. Forsyth County would remain essentially all white until the 1990s.
No one was ever held accountable for Mr. Edwards's lynching or the mass exodus of Black residents that followed. Like all victims of racial terror lynchings, Rob Edwards died without due process of law.
The Community Remembrance Project of Forsyth County
The Community Remembrance Project of Forsyth County formed following a 2017 Forsyth County Public Library-sponsored visit from Patrick Phillips, author of Blood at the Root: A Racial Cleansing in America. Mr. Phillips, who grew up in Forsyth County, wrote that many white people in the county "believed that 'racial purity' was their inheritance and birthright…and like their fathers' fathers' fathers, they saw even a single black face as a threat to their entire way of life."
Several event attendees were interested in working to address the often hidden history of racial injustice in Forsyth County and the racist reputation that haunts it today. For more than a year, the small group met monthly, conducting research and brainstorming. They wanted to increase awareness of the lynching of Rob Edwards and memorialize him as well as the countless Black families who were tortured, terrorized, and in some cases, killed.
Following the opening of the National Memorial for Peace and Justice in 2018, several group members visited the site and returned to Forsyth with a commitment to launch a Community Remembrance Project. They formed CRPFC, partnered with EJI, and in January 2020, held a Community Soil Collection ceremony memorializing Mr. Rob Edwards. Shortly thereafter, with assistance from the Historical Society of Cumming/Forsyth County, CRPFC approached and ultimately convinced Forsyth County Commissioners to unanimously approve the installation of the marker on county land.
The coalition believes that "by acknowledging our history and educating ourselves and our community, we begin to understand each other and move past simple tolerance to embracing and celebrating the diversity within each individual." They view the installation of this marker documenting the racial terror lynching of Mr. Edwards by white community members as one step in the process of advancing truth and reconciliation in Forsyth County.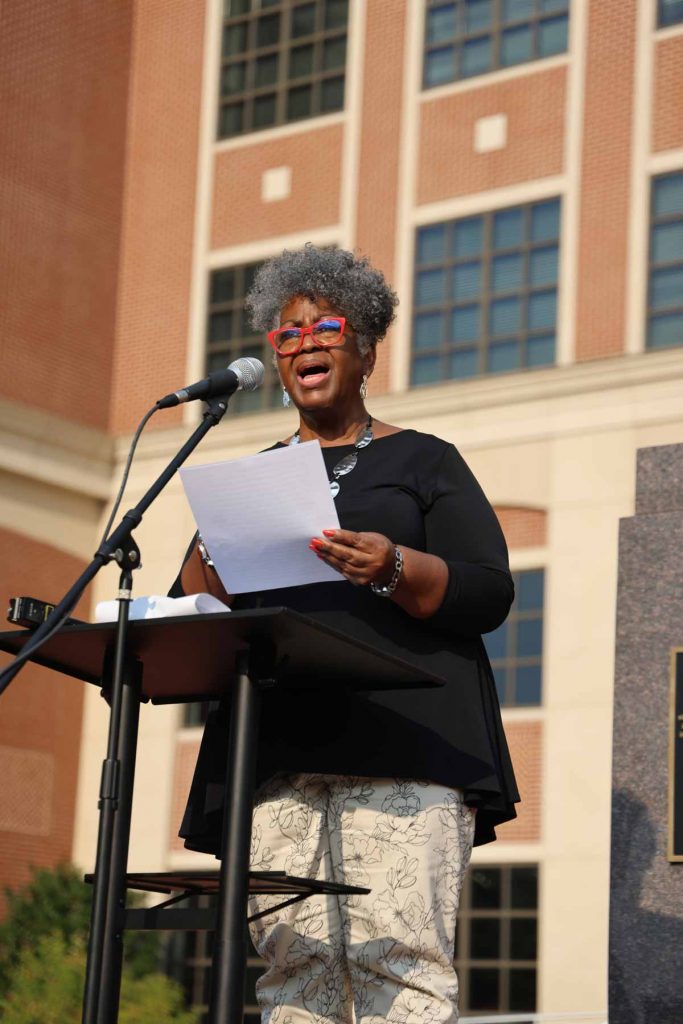 Dock Pro Media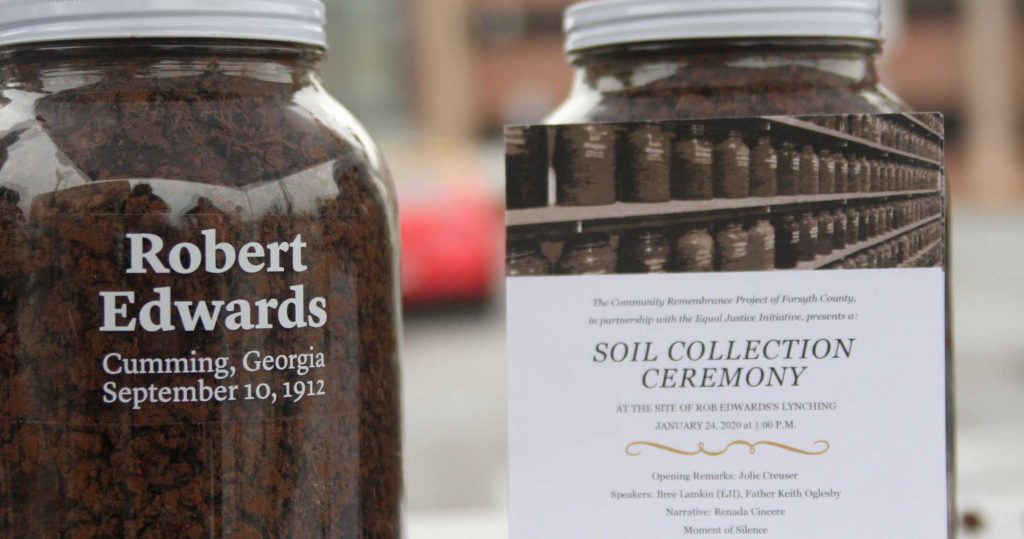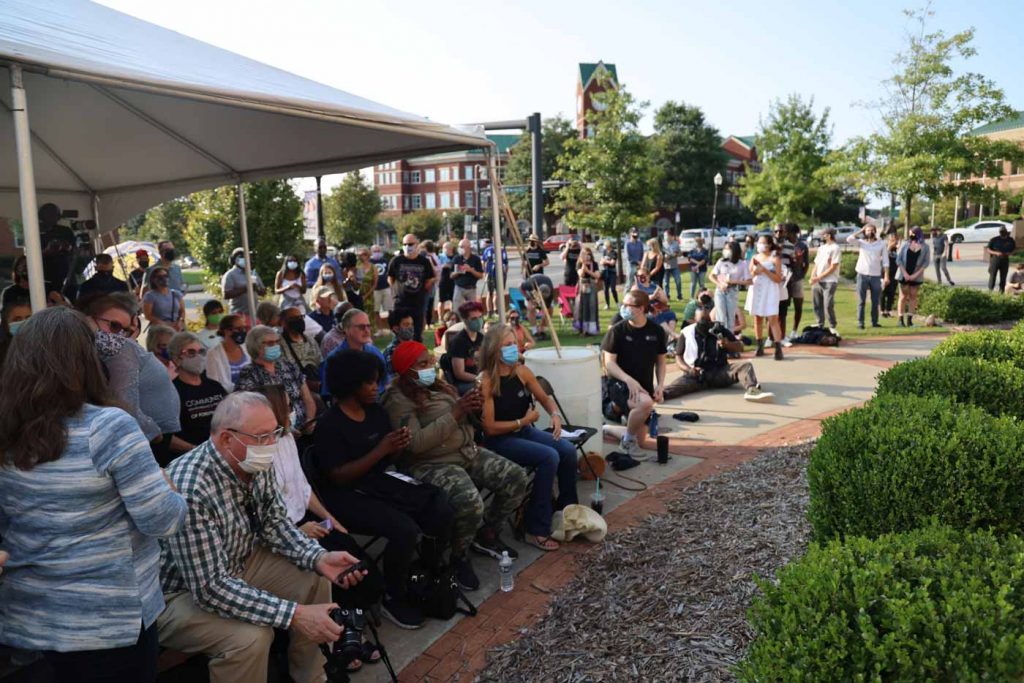 Dock Pro Media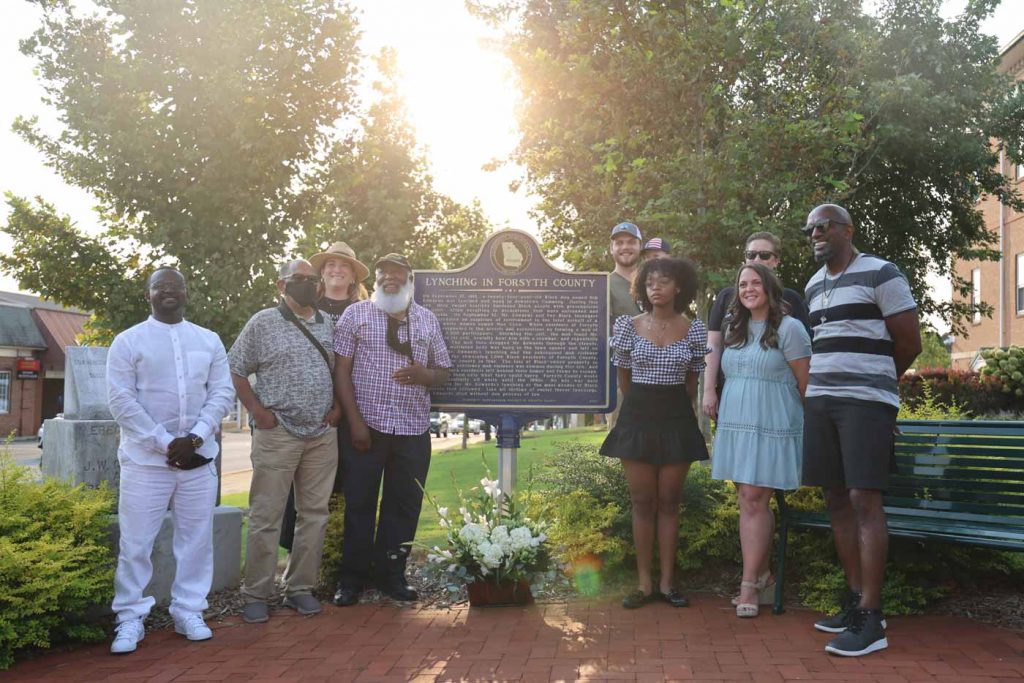 Dock Pro Media
Lynching in America
In Lynching in America and Reconstruction in America, EJI has documented nearly 6,500 racial terror lynchings in America between 1865 and 1950. Thousands more Black people have been killed by white mob lynchings whose deaths may never be discovered. The lynching of African Americans was a form of racial terrorism intended to intimidate Black people and enforce racial hierarchy and segregation.
Lynching became the most public and notorious form of terror and subordination. White mobs were usually permitted to engage in racial terror and brutal violence with impunity. Many Black people were pulled out of jails or given over to mobs by law enforcement officials who were legally required to protect them. Terror lynchings often included burning and mutilation, sometimes in front of crowds numbering in the thousands.
In response to this racial terror and violence, millions of Black people fled the South and could never return, which deepened the anguish and pain of lynching. Many of the names of lynching victims were not recorded and will never be known.
EJI's Community Remembrance Project
EJI's Community Remembrance Project is part of our campaign to recognize the victims of lynching by collecting soil from lynching sites, erecting historical markers, and developing the National Memorial for Peace and Justice, which acknowledges the horrors of racial injustice.
As part of our effort to help towns, cities, and states confront and recover from tragic histories of racial violence and terrorism, EJI is joining with communities to install historical markers in communities where the history of lynching is documented.
We believe that understanding the era of racial terror is critical if we are to confront its legacies in the challenges that we currently face from mass incarceration, excessive punishment, police violence, and the presumption of guilt and dangerousness that burdens people of color today.