Today, the Dallas County Justice Initiative, in partnership with EJI, unveiled a historical marker in memory of Allen Brooks, a Black man who was lynched by a white mob in Dallas, Texas, in 1910. The marker is located at the intersection of Main and Akard streets in downtown Dallas, at the location where Mr. Brooks was lynched.
Several hundred community members gathered for the dedication ceremony. The program included remarks from several county commissioners, faith leaders, pan-African drummers, and written remarks from the mayor, who was unable to attend in person.
After remarks from the speakers, members of the coalition read the marker text and then invited community members to place 110 white carnations at the base of the marker to represent 110 years since Mr. Brooks was lynched. There was then a drum processional to the Old Red Courthouse, the location where the white mob abducted Mr. Brooks from law enforcement custody. There was a brief libations ceremony at the courthouse, and doves were released. Community members were then invited to place 59 red roses at the base of the window from which the mob dragged Mr. Brooks, to represent his 59 years of life.
The Lynching of Allen Brooks
On March 3, 1910, a 59-year-old Black handyman named Allen Brooks was lynched by a white mob. Mr. Brooks was accused—without evidence—of assaulting his white employer's daughter.
During a pretrial hearing for Mr. Brooks at the Dallas County Courthouse (now the Old Red Courthouse), a mob of at least 3,000 white men gathered and demanded that Mr. Brooks be lynched. Members of the mob broke into the courtroom, seized Mr. Brooks from law enforcement officers, tied a rope around his neck, and threw him from the second-floor window of the courthouse, fracturing his skull upon impact. A separate faction of the mob surrounded Mr. Brooks, kicking and beating him before dragging him several blocks to the intersection of Main and Akard streets.
The brutal, lawless violence continued near the Elks Arch, where Mr. Brooks was hanged from a telegraph pole in front of 5,000 onlookers. Photographs of Mr. Brooks's lynched body were widely circulated, and attendees took pieces of his clothing as souvenirs. Though several members of the mob gave newspaper interviews, no one was ever held responsible for the lynching of Allen Brooks.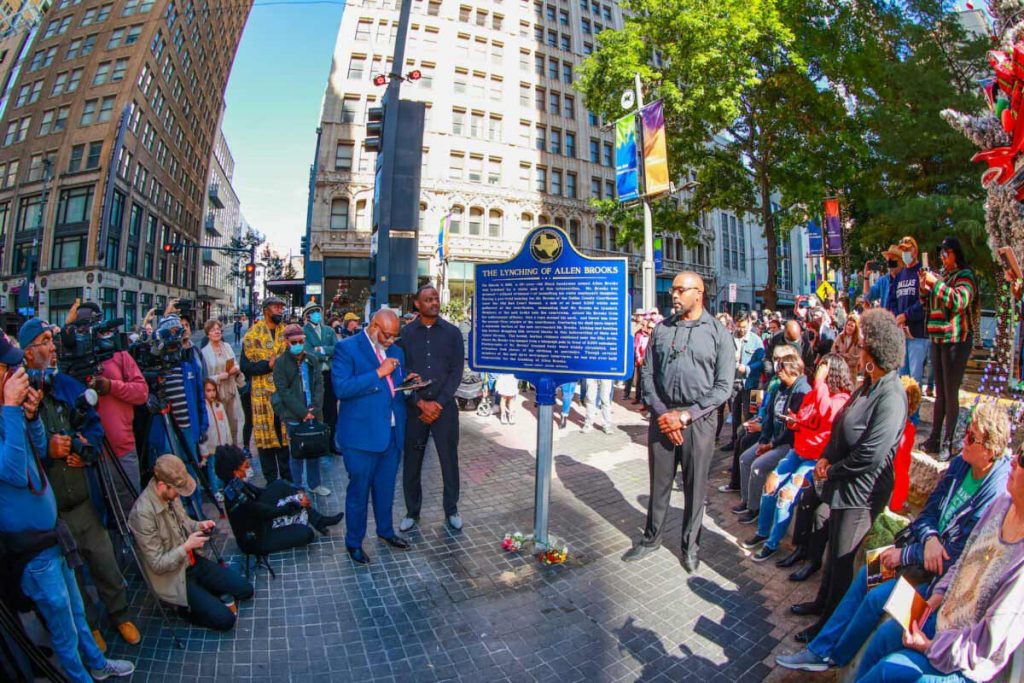 Don Thomas II/D Magazine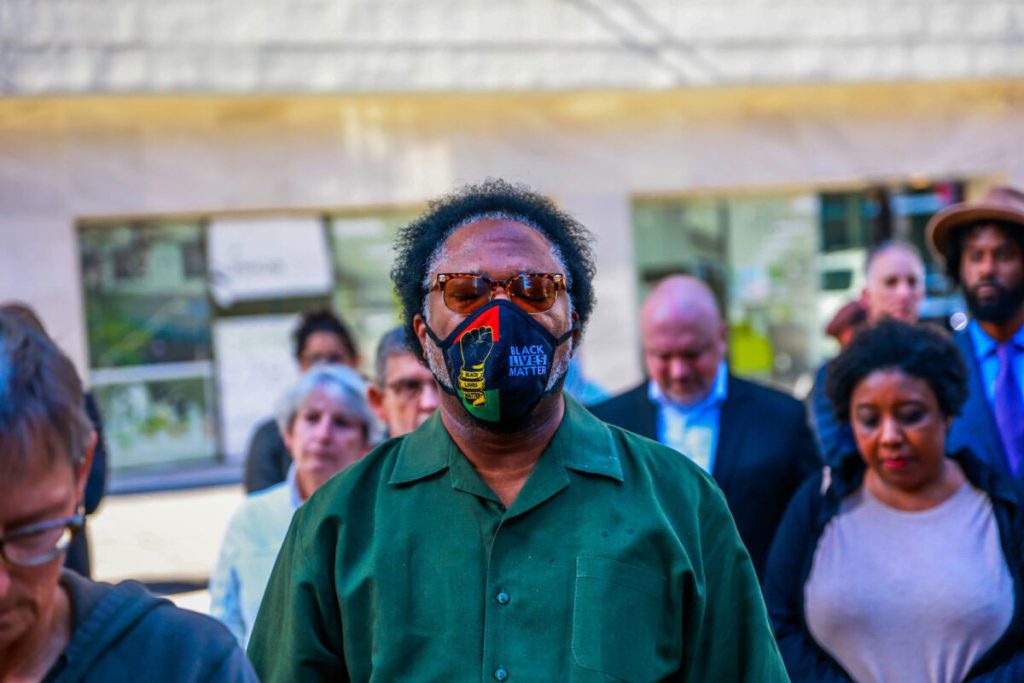 Don Thomas II/D Magazine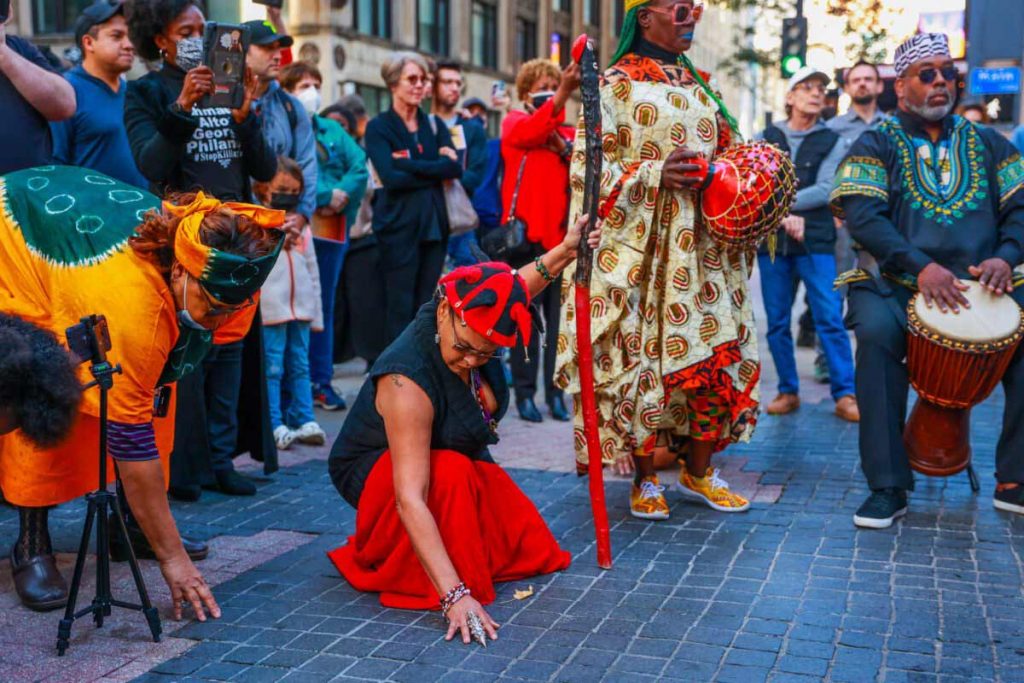 Don Thomas II/D Magazine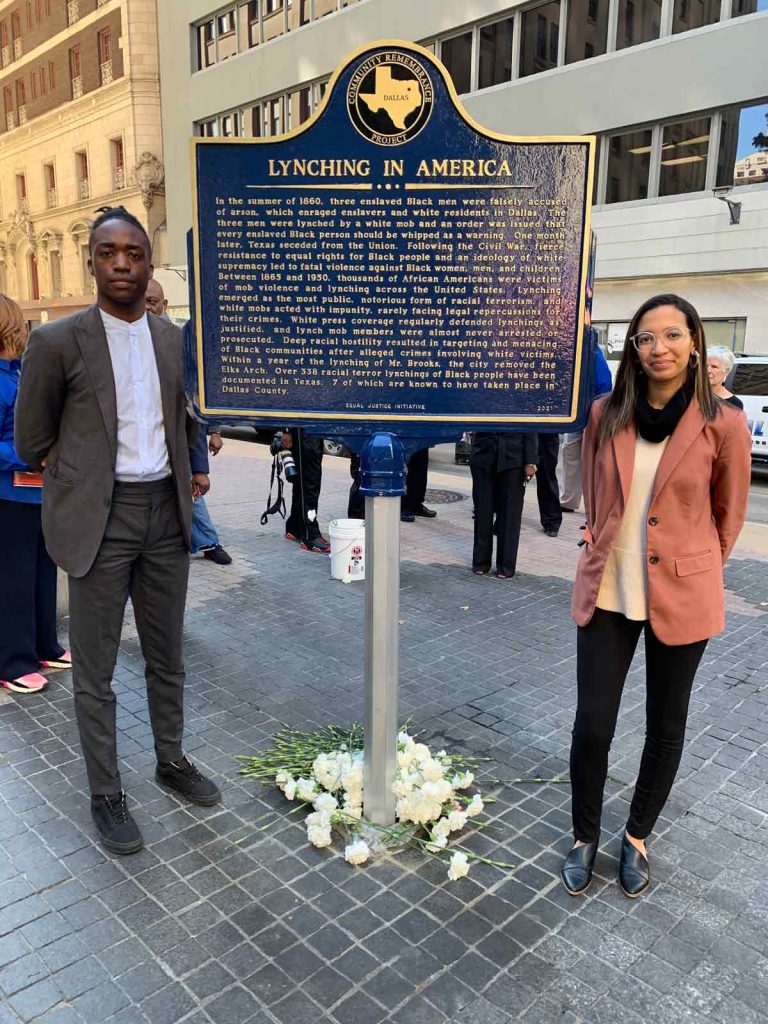 Lynching in America
In the summer of 1860, three enslaved Black men were falsely accused of an arson that had enraged enslavers and white residents in Dallas. The three men were lynched by a white mob and an order was issued that every enslaved Black person should be whipped as a warning. One month later, Texas seceded from the Union.
After the Civil War, fierce resistance to equal rights for Black people and an ideology of white supremacy led to fatal violence against Black women, men, and children. Between 1865 and 1950, thousands of African Americans were victims of mob violence and lynching across the U.S. Lynching emerged as the most public, notorious form of racial terrorism, and white mobs acted with impunity, rarely facing legal repercussions for their crimes.
White press coverage regularly defended lynchings as justified, and lynch mob members were almost never arrested or prosecuted. Deep racial hostility resulted in targeting and menacing of Black communities after alleged crimes involving white victims. Of more than 338 racial terror lynchings of Black people documented in Texas, seven are known to have taken place in Dallas County.
Dallas County Justice Initiative
Led by Dr. George Keaton, a fifth-generation Dallas native, community activist, educator, and local Black historian, the Dallas County Justice Initiative coalition formed at the beginning of 2020 in partnership with a local nonprofit, Remembering Black Dallas. To date, the coalition includes an intergenerational cohort of Dallas County civic leaders and faith-based and cultural institutions.
In December 2020, the coalition led a Soil Collection Community Ceremony and collected soil to memorialize the lynching of Reuben Johnson, a Black man who was lynched in Dallas on December 27, 1874.
And in March 2021 the coalition held a Soil Collection Community Ceremony in remembrance of Mr. Books to commemorate the 111th anniversary of his lynching. The Dallas County Justice Initiative strives to honor the victims of racial terror in Dallas County and shed light on the legacy of racial violence.
Community Remembrance Project
The Community Remembrance Project is part of our campaign to recognize the victims of lynching by collecting soil from lynching sites, erecting historical markers, and developing the National Memorial for Peace and Justice, which acknowledges the horrors of racial injustice.
As part of our effort to help towns, cities, and states confront and recover from tragic histories of racial violence and terrorism, EJI is joining with communities to install historical markers in communities where the history of lynching is documented. The historical marker in Dallas is among dozens of narrative markers sponsored by EJI to date.
We believe that understanding the era of racial terror is critical if we are to confront its legacies in the challenges that we currently face from mass incarceration, excessive punishment, police violence, and the presumption of guilt and dangerousness that burdens people of color today.