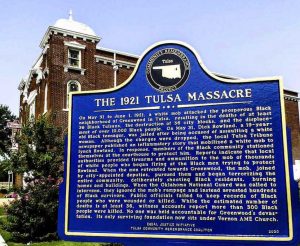 EJI hosted with local community activists and leaders a weekend of events to commemorate the 100th anniversary of the Tulsa Massacre. On Saturday, a luncheon was held honoring Mother Randle, Mother Fletcher, and "Uncle" Van Ellis, three extraordinary survivors of the massacre. 
EJI also awarded scholarships to high school students who participated in the Community Remembrance Essay Contest. On Sunday, faith gatherings marked the tragedy of Tulsa.
EJI continues to work with the Terence Crutcher Foundation and Damario Solomon-Simmons on litigation seeking reparations for the massacre.