On Wednesday, the Alabama Department of Corrections (ADOC) joined local and state police in raiding two public schools in Monroe County, Alabama. Both schools serve K-12 students. ADOC reported that during the drug sweeps, all classrooms, lockers, gyms, and parking lots were cleared and several vehicles were searched. No drugs were found.
According to ADOC, Monroe County Schools Superintendent Greg Shehan requested the drug raids from the Monroe County Sheriff's Office. Sheriff Tom Boatwright then invited ADOC, the Alabama Law Enforcement Agency, the Escambia County Sheriff's Office, and the Excel and Thomaston Police Departments to participate in the raids. ADOC sent personnel from its K-9 Bureau, including drug-sniffing dogs.
Both Superintendent Shehan and Sheriff Boatwright are white, while a majority of the public school students in Monroe County are Black, and close to two thirds of the students qualify as "economically disadvantaged." The drug raids targeted J.F. Shields, a K-12 school where over 98 percent of the students are Black, and Excel, a K-12 school where 21 percent of the students are Black. Monroe Academy, an all-white Christian K-12 school founded in 1969 that has never admitted a Black student, was not raided.
Both the U.S. and Alabama Constitutions guarantee the right to be free from unreasonable searches and seizures. The Monroe County Board of Education and the Monroe County Sheriff's Office declined to respond to any questions about the school raids. ADOC was unable to provide any answers as to what prompted the raids or whether warrants were obtained for the raids. ADOC instead stated that "operations of this sort are common," according to 1819 News.
In fact, such raids have been widely condemned and have resulted in both criminal and civil sanctions for the authorities involved. For example, on November 5, 2003, police raided a high school in South Carolina, targeting African American students at the predominantly white school. Surveillance tapes showed students as young as 14 forced to the ground in handcuffs as officers aimed guns at their heads and drug dogs tore through their book bags. No drugs were found. Several years later, the city, the police department, and the school district settled a lawsuit over the drug raid and paid $1.6 million dollars to compensate the students and help cover medical and counseling costs from the incident.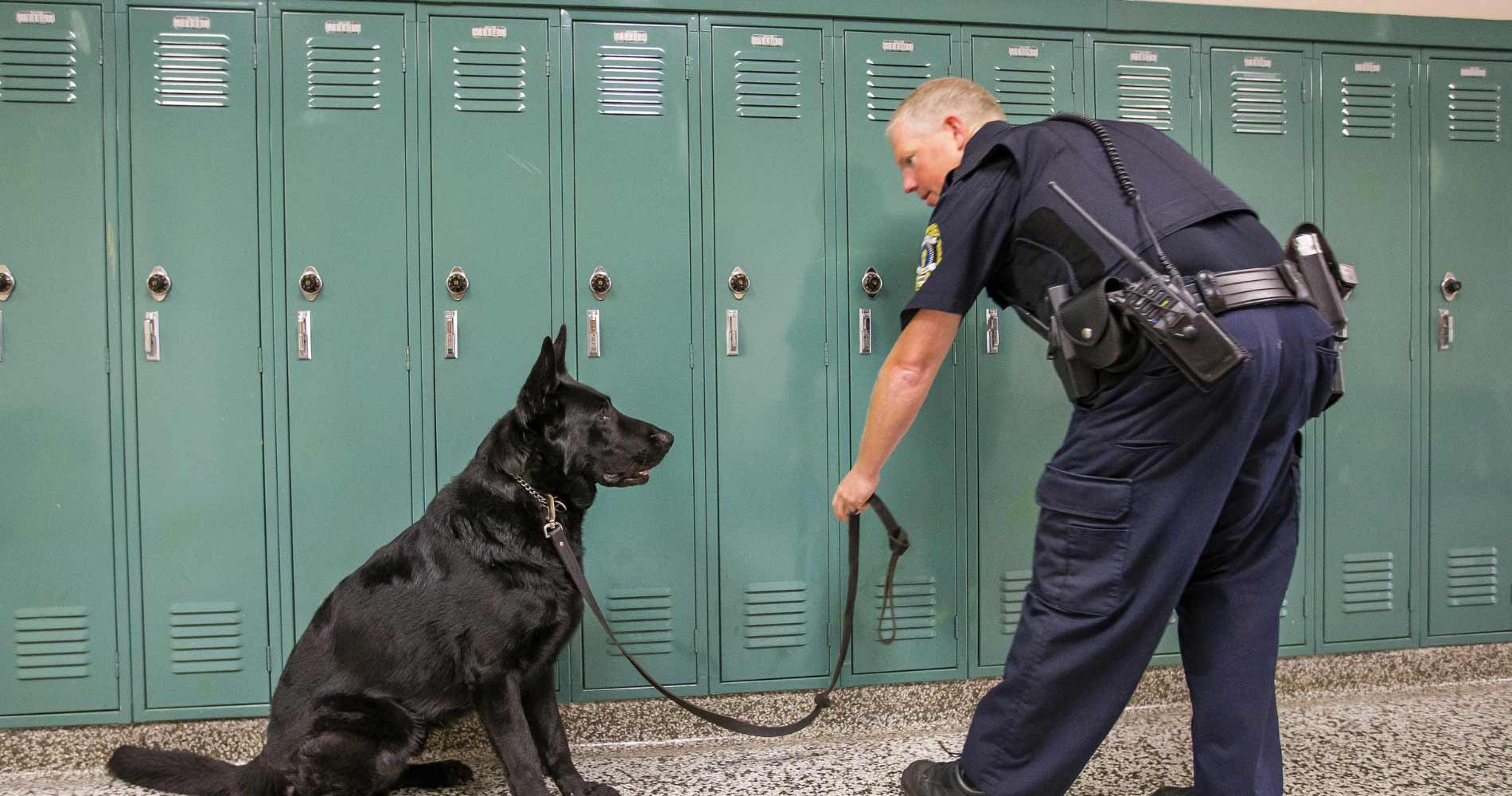 And on April 14, 2017, a Georgia sheriff and his deputies raided a local high school where every one of the 900 students qualified as economically disadvantaged. Law enforcement ordered students to turn over their cell phones and subjected them to pat down searches. No drugs were found. The sheriff told reporters that the searches were legal because school administrators were present. When asked about the drug raid, a lawyer for the school district stated, "I've been doing this a long time, and I've never heard of anybody doing that kind of thing." Later the same year, a grand jury indicted the sheriff on charges of false imprisonment, sexual battery, and violating his oath of office.
As ADOC utilizes its resources to raid K-12 schools, drugs and weapons continue to flow through Alabama's prisons unregulated—and often aided—by correctional staff. In the past three weeks alone, six ADOC officers, including a captain and a lieutenant, were arrested and charged with accepting bribes and other crimes associated with facilitating the introduction of illegal contraband into the state's prisons.
Alabama's prison system is the focus of an ongoing lawsuit filed by the Department of Justice (DOJ). After a lengthy investigation, the DOJ concluded that ADOC's failure to stem the flow of illegal contraband has resulted in a highly dangerous prison environment that leads to many preventable deaths.
More people incarcerated in Alabama's prisons have died so far in 2022 than in any single year for decades. In the first 11 months of this year, 222 people died in the state's prisons. More than a third (88) of the people who died were 45 or younger, and 20 were younger than 30 years old.
ADOC does not report the number of fatal overdoses in its monthly statistical reports or in statements to the media, saying only that individuals were "found unresponsive." The Jefferson County coroner is the only person statewide who has provided information on the cause of death for incarcerated people. The coroner reported 7 overdoses at Donaldson Correctional Facility during the first 10 months of 2022 alone. Donaldson is only one of Alabama's 26 prison facilities.