EJI's new video, Abbeville, documents the extraordinary journey of a family and community who overcame a century of silence to expose an American story about hard work and achievement, racial terrorism and exile, and the healing power of truth-telling.
A century ago, a white mob beat, stabbed, shot, and hung Mr. Crawford, a 56-year-old Black farmer, in the Abbeville, South Carolina, town square, after he dared to argue with a white merchant over the price of cottonseed. The patriarch of a large, multi-generational family, and the owner of 427 acres of land, Mr. Crawford was a successful farmer and leader whose murder had long-reaching effects.
The gruesome public murder, though committed openly, did not lead to prosecution or conviction for any members of the mob.  Days after the lynching, Abbeville's white residents "voted" to expel the Crawford family from the area and seize their property. When South Carolina's governor declared himself powerless to protect the family from violence, most of the surviving relatives fled to destinations as distant as New York and Illinois, fragmenting the once strong and close-knit family.
It would take ongoing efforts over generations to begin to repair and reconnect those bonds through family reunions and the persistence of family elders who ensured that the younger generations saw Grandpa Crawford's photograph at family gatherings and knew the story of both his life and death.
The short film documents and honors the Crawford family's determination to tell their story. Doria Johnson was born in Chicago, 45 years after her great-great-grandfather's lynching forced her family to flee north with Doria's young grandmother wrapped in newspaper to shield her from the cold. On the 100th anniversary of the lynching, she addressed hundreds of community members, college students, and supporters from near and far who gathered together in Abbeville to witness and celebrate the unveiling of a historical marker bearing Mr. Crawford's photograph and publicly declaring the previously unspoken truth of how his life ended.
Ms. Johnson recalled how the beautiful photo of Grandpa Crawford and the painful story of his death shaped a curiosity and determination that stayed with her. As a young woman, she called the Abbeville church where Anthony Crawford had been a leader before his death, and found herself speaking to Phillip Crawford, a cousin she'd never known she had. From there, she helped lead more conversations, and research led to advocacy, publicity, and a push for public recognition that has finally come to fruition.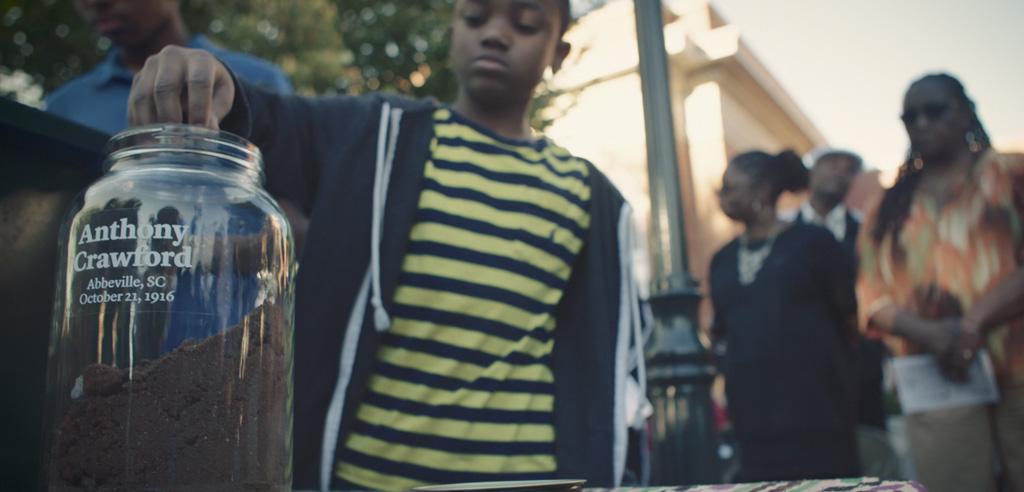 Family members collected soil from the site where Mr. Crawford was lynched, as part of EJI's Community Remembrance Project, a campaign to recognize the victims of lynching by collecting soil from lynching sites and creating a memorial that acknowledges the horrors of racial injustice in America. 
Alongside a stone monument to South Carolina statesman and avowed white supremacist John C. Calhoun, and within steps of a Confederate memorial bearing an inscription hailing the "right cause" of the Southern forces, EJI joined with community members to erect a new marker that provides a different perspective on history.  The marker documents the Crawford story of racial terror, violence, and brutality, and a story of survival.  Those present for the unveiling included more than 100 of Anthony Crawford's descendants, who wore Black armbands and buttons in his memory, as well as members of the families of Angela Davis, Emmett Till, Ida B. Wells, and Malcolm X, who came to lend support and words of encouragement.  
"For a long time, the Earth has been silent about the injury and injustice of what happened to Anthony Crawford," said EJI Director Bryan Stevenson, who officiated the unveiling. "But today, we're going to resurrect that truth." As the marker was revealed, the crowd chanted, "We are here!"
To watch Abbeville is to witness the power of truth-telling to pave the way towards healing and reconciliation for individuals, families, communities, and EJI believes, our entire country. By erecting permanent markers that memorialize lynchings, EJI is working with communities to change the American landscape to tell a more complete and honest story about our history. 
"America is a place where symbols are important, where markers are important. When you read that text on that marker, it's the truth," Ms. Johnson says in the film. "That's a permanent marker. If you go do business in city hall, if you do business at the courthouse, you walk right past Anthony Crawford. And he's looking back at you."