Audiences Give Just Mercy a Rare A+ Score
Now in theaters everywhere nationwide
01.13.20
Just Mercy made a very strong showing at the box office this opening weekend—and it scored a rare A+ CinemaScore from audiences and earned a 99% audience score on Rotten Tomatoes. We hope all of you who have seen Just Mercy will spread the word and encourage your friends and family to go see this powerful true story about EJI, the people we represent, and the importance of confronting injustice.
Get tickets
Just Mercy presents the unforgettable story of Bryan Stevenson (Michael B. Jordan) and the case of Walter McMillian (Academy Award winner Jamie Foxx), who was convicted and sentenced to death for a crime he did not commit.
The movie is based on the bestselling memoir by EJI director Bryan Stevenson. The paperback edition has soared to the top of The New York Times Best Sellers list after an impressive 186 weeks on the list.
Audiences and critics are giving Just Mercy rave reviews, calling it "a brilliant, life-changing film." The Washington Post described it as an "absorbing, tautly designed drama" that is "shattering, satisfying and true."
Certified Fresh by Rotten Tomatoes—audience score 99%
A+ CinemaScore
Barack Obama's Favorite Movies of 2019
Just Mercy is the winner of the American Bar Association's 2020 Silver Gavel Award for Drama & Literature. The National Board of Review presented Just Mercy with its Freedom of Expression award on December 8 and the African American Film Critics Association has named it one of the year's Best Films.
Just Mercy received an incredible six NAACP Image Award Nominations, including Outstanding Motion Picture and Outstanding Ensemble Cast in a Motion Picture. Michael B. Jordan was nominated for Outstanding Actor in a Motion Picture and Jamie Foxx for Oustanding Supporting Actor. Rob Morgan is up for Outstanding Breakthrough Performance and Outstanding Writing in a Motion Picture nominations went to Destin Daniel Cretton and Andrew Lanham.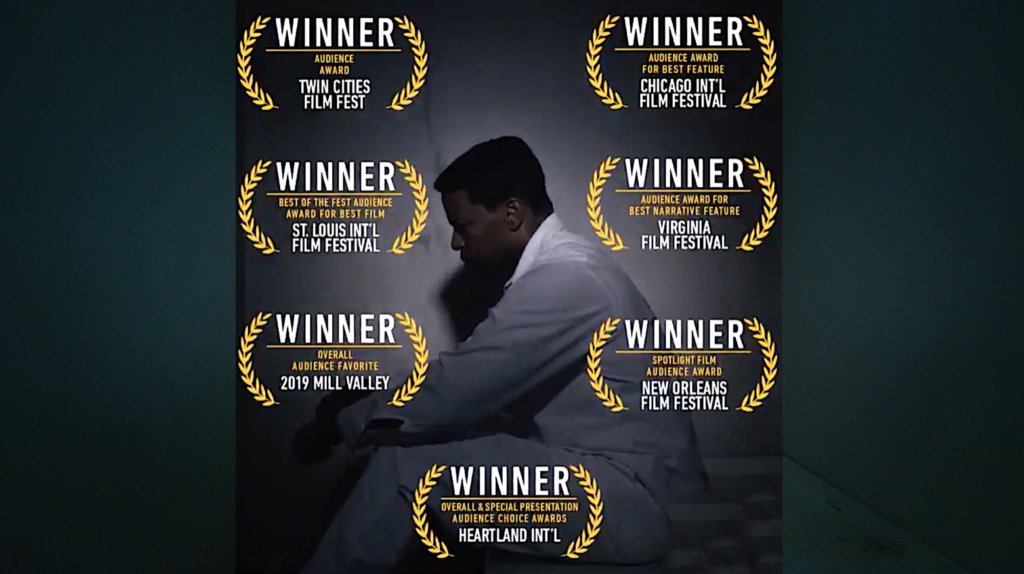 Just Mercy was an Official Selection at the American Film Institute Fest and Toronto International Film Festival. It won the Audience Award at the Twin Cities Film Fest; Audience Award for Best Feature at the Chicago International Film Fest, Best of the Fest Audience Award for Best Film at the St. Louis International Film Festival, Audience Award for Best Narrative Feature at the Virginia Film Festival, Overall Audience Favorite at the 2019 Mill Valley Film Festival, Spotlight Film Audience Award at the New Orleans Film Festival, and Overall & Special Presentation Audience Choice Award at the Heartland International Film Festival. The American Black Film Festival has nominated Just Mercy for Movie of the Year.
Jamie Foxx won AAFCA's award for Best Supporting Actor and has been nominated for a Screen Actors Guild award for his portrayal of Walter McMillian, which is "transfixing enough to make you hold your breath without realizing it." He will also receive the Excellence in the Arts Award at the 2020 American Black Film Festival Honors.
Outstanding performances by Michael B. Jordan, Brie Larson, Rob Morgan, Karan Kendrick, Tim Blake Nelson, and O'Shea Jackson Jr. have been widely acclaimed.
Don't miss what critics are praising as a "devastatingly affecting drama" that's inspiring audiences with "a stirring resolution, based on the certainty that hatred, in all its terrible power, will never be as powerful as justice."