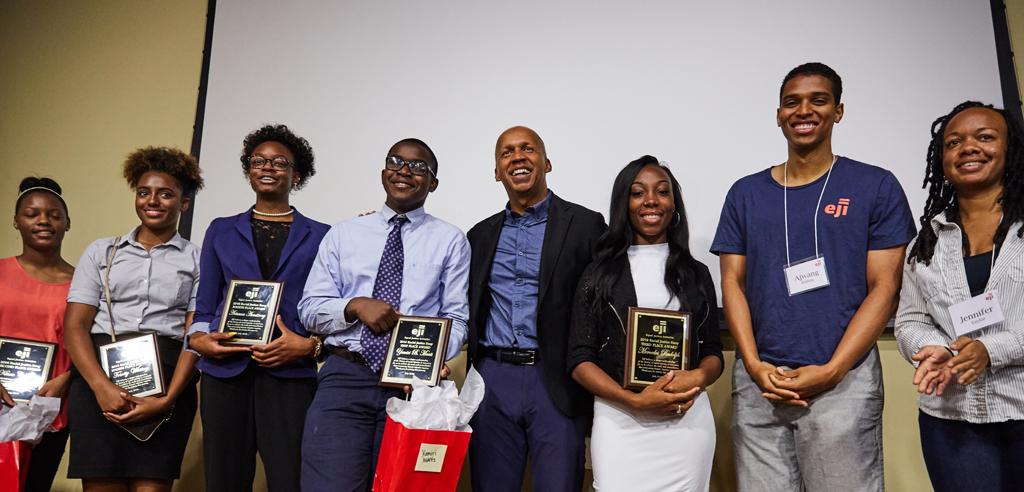 The winners of the Lowndes County Racial Justice Essay Contest were announced on July 30, 2016. Photo by Caleb Chancey.
EJI's Racial Justice Essay Contest
Each year, EJI sponsors essay contests for high school students in counties where EJI is placing historical markers to memorialize victims of lynching. Students in grades 9-12 enter essays about our nation's history of racial inequality, and the winners are announced in conjunction with the dedication of the marker in their county. Each contest provides $6000 in scholarships for college.
This summer, EJI dedicated a marker to commemorate lynchings in Letohatchee, Alabama, and the corresponding essay contest was open to high school students living in or attending school in Lowndes County, Alabama.
The first place prize of $3000 was awarded to Central High School 10th grader Yamiri B. Mants (pictured) for his essay, "Things Remain the Same."
Kiara Coleman, a 10th grader at the Calhoun School, won second place ($1500) for her essay, "Annette Butler, Oscar Grant." Third place ($1000) went to Central High School senior Mercedes Rudolph for her essay, "The Rape of Annette Butler." And Calhoun School students Trinity Whiting and Arianna Armstrong tied for fourth place ($500 each).
Last year, EJI awarded $6000 in scholarships to the four winners of the 2015 Racial Justice Essay Contest in Brighton, Alabama. The contest was part of EJI's racial history project, and the award ceremony followed EJI's dedication of an historical marker in Brighton that documents the lynching of William Miller.
Hueytown High School students Brieonna Collins and Layla Tatum tied for first place, and were each awarded a $2250 scholarship. Ms. Collins, a junior, wrote about the Chicago riots of 1919. "It made me feel like my ancestors fought a lot for me," she told WVTM-13 News. Ms. Tatum, a senior, wrote about the lynching of three black men in Duluth, Minnesota, in 1920. Both read their essays at the award ceremony.
The third place prize of $1000 went to Tayzha Parrish, a senior at Hueytown High, who wrote about the murder of civil rights activist Jimmie Lee Jackson by an Alabama state trooper in 1965. Carmen Knight, a senior at Pleasant Grove High School, won fourth place and received $500 for her essay about the 1963 bombing of the Sixteenth Street Baptist Church in Birmingham, Alabama.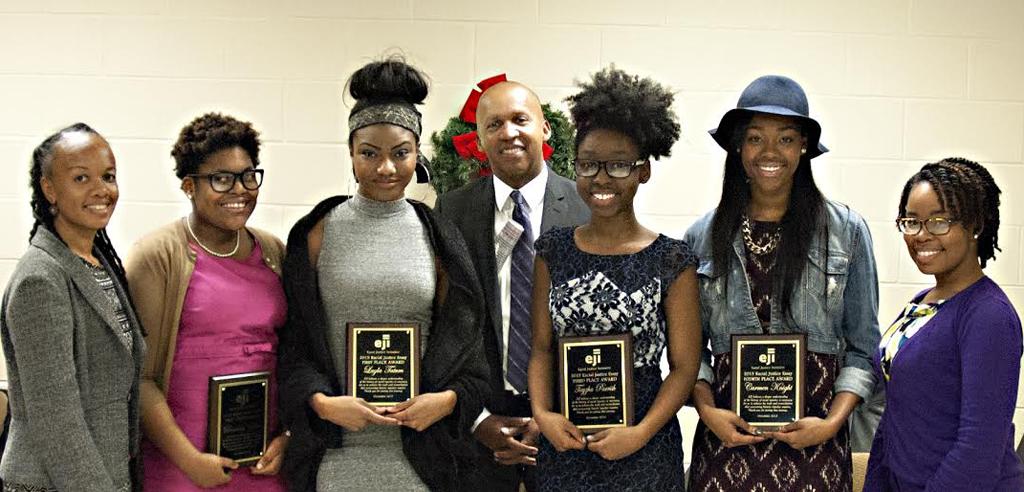 "These inspiring young winners did the courageous, impressive work of telling the truth about our nation's history of racial injustice," said EJI Director Bryan Stevenson. "That truth-telling, together with markers and memorials that change the American landscape, is critical to advance our understanding about the legacy of lynching, and that understanding will make healing and reconciliation possible."