Tutwiler Prison for Women
EJI investigated and exposed the widespread sexual abuse of women at Tutwiler Prison for Women in Wetumpka, Alabama.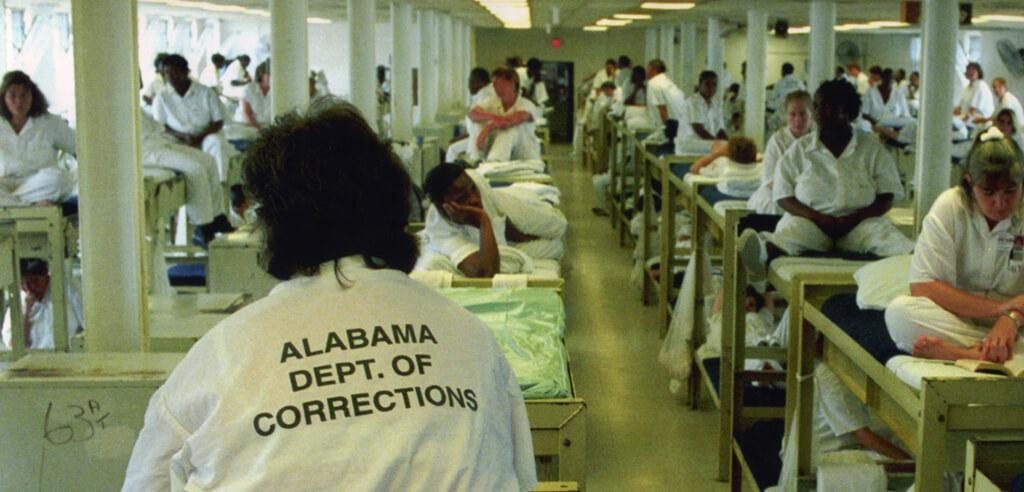 Tutwiler Prison for Women in Wetumpka, Alabama, has long had the highest rate of sexual assault in the U.S. among correctional facilities for women.
EJI's Investigation into Sexual Abuse at Tutwiler
EJI investigated the widespread sexual abuse of incarcerated women by male guards at Tutwiler. In interviews with more than 50 women incarcerated at Tutwiler, EJI uncovered evidence of frequent and severe officer-on-inmate sexual violence, including that several incarcerated women had become pregnant after being raped by prison guards.
In 2012, EJI released the results of its investigation, revealing that from 2009 to 2011, six correctional officers were convicted for criminal sexual abuse of incarcerated women but only one faced more than five days in jail.
Despite the known high rate of sexual contact between male staff and incarcerated women, the warden and correctional officers at Tutwiler continued to punish and humiliate women who report sexual misconduct, routinely placing them in segregation, stripping them of their property, denying them contact with their families, and forcing them to submit to unwanted medical procedures.
EJI also found evidence that prison officials were misreporting the frequency of sexual assaults by prison employees.
EJI's Complaint Launches Federal Investigation
In May 2012, EJI filed a complaint with the U.S. Justice Department calling for a swift and thorough federal investigation into the Alabama Department of Corrections' failure to adequately protect prisoners from sexual violence by Tutwiler employees.
Lawyers with the Civil Rights Division launched a formal inquiry in early 2013. Federal investigators conducted an on-site inspection at Tutwiler, interviewed staff and dozens of prisoners, and reviewed documents including incident and investigative reports and letters from about a quarter of the prison population. They found an "unprecedented" amount of corroboration for the women's reports.
Department of Justice Finds Abuse at Tutwiler Violates Constitution
In January 2014, the Justice Department informed then-Alabama Governor Robert Bentley that its investigation found that prison staff have raped, sodomized, fondled, and exposed themselves to prisoners; coerced prisoners to engage in oral sex; engaged in voyeurism, watching women while they shower and use the toilet; and subject women to a "daily barrage of sexually explicit verbal abuse." Prison officials punish women who report sexual abuse and do not adequately investigate allegations.
In a 36-page findings letter, the Department wrote:
Tutwiler has a history of unabated staff-on-prisoner sexual abuse and harassment. The women at Tutwiler universally fear for their safety. They live in a sexualized environment with repeated and open sexual behavior, including: abusive sexual contact between staff and prisoners; sexualized activity, including a strip show condoned by staff; profane and unprofessional sexualized language and harassment; and deliberate cross-gender viewing of prisoners showering, urinating, and defecating. The inappropriate sexual behavior, including sexual abuse, continues, and is grossly underreported, due to insufficient staffing and supervision, inadequate policies and procedures, a heightened fear of retaliation, and an inadequate investigative process.
The letter also notified the governor that the Justice Department intends to expand its investigation into Tutwiler, because during its investigation into sexual abuse allegations it found evidence of other constitutional violations, including excessive use of force; inadequate conditions of confinement; inadequate medical and mental health care; and discriminatory treatment based on national origin, sexual orientation, and gender identity.
Delay in Implementing Meaningful Reforms
The United States Attorney General set out reforms that state officials must take to avoid a federal lawsuit. The deadline for implementing those reforms was Friday, March 7, 2014. But more than four months past the deadline, women at Tutwiler reported that meaningful changes were not being implemented.
EJI received complaints that officers retaliated against women who spoke to investigators and lawyers about the conditions at Tutwiler. Many women have reported being harassed, threatened, and intimidated by officers, who told them they would "stop being hard on you" if the women stopped reporting abuse.
The most significant change at Tutwiler has been the replacement of the warden, but the previous warden was never publicly held accountable, was belatedly transferred to another prison, and then was allowed to retire with full benefits.
The deputy warden who was directly responsible for security and conduct by staff during the most disturbing period at Tutwiler was promoted to warden at Easterling Correctional Facility, where complaints of violence and abuse have since increased.
The failure to hold prison leadership accountable continues to be a major barrier to meaningful change at Tutwiler.