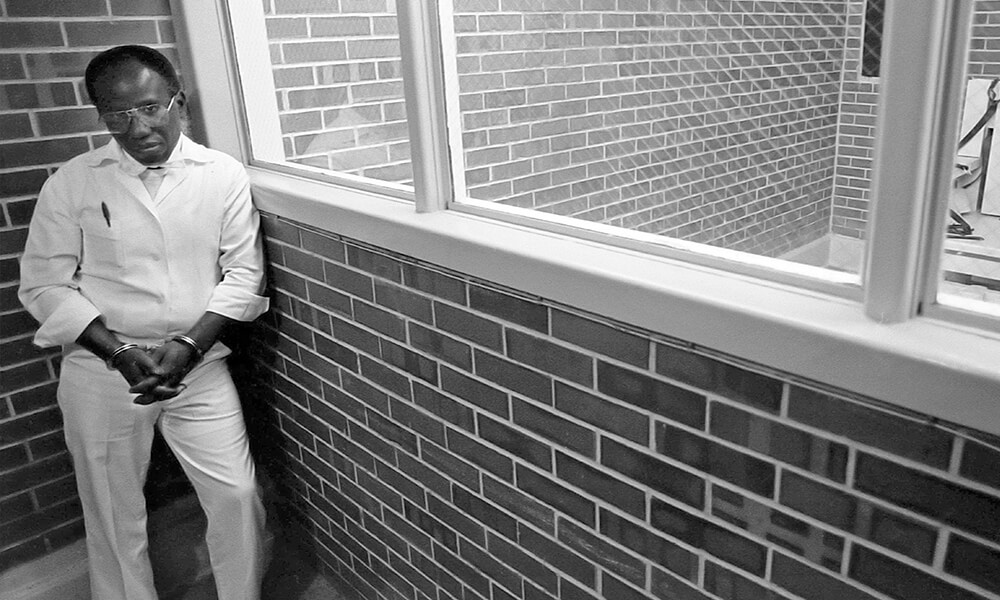 Herbert Richardson, pictured shortly before his execution, is one of 66 people who have been executed in Alabama since the resumption of capital punishment, most of whom would not have been executed if they had received timely and effective legal assistance.
Background
Herbert Richardson was a Black Vietnam War veteran who fought for our country on the front lines until he was honorably discharged due to psychiatric illness that he developed from his service. He was executed in 1989 by the State of Alabama after being convicted of capital murder in 1978. While Mr. Richardson served this country in the most horrific of circumstances, his service and the mental health problems that resulted from it were ignored at his capital trial. The story of his life demonstrates that people who are guilty of crimes are more than the worst thing they have ever done and do not deserve to be executed.
Mr. Richardson was born on February 16, 1946, to a mother who died when Herbert was only three years old. He was physically abused at the age of seven and in 1964, when he turned 18, he enlisted in the U.S. military, where he was assigned to the 11th Aviation Group, 1st Cavalry Division.
Mr. Richardson was assigned to Camp Radcliff, in an area of Vietnam that was experiencing extremely heavy fighting at the time. Mr. Richardson and his fellow soldiers were not spared from the onslaught of attacks. In one particularly horrendous mission, Mr. Richardson was the only one to survive an attack that killed the rest of his platoon.
Mr. Richardson had been knocked unconscious during the attack, and he later experienced headaches so severe that he tried to kill himself several times. He began experiencing "crying outbursts" and would go into "uncommunicative withdrawal." Despite these conditions and his commanding officers' requests for psychiatric evaluations, Mr. Richardson spent seven more months in combat before he was honorably discharged and sent home to Brooklyn, New York, in December 1966.
Like hundreds of thousands of Vietnam War veterans, Mr. Richardson returned home traumatized and disabled. Thousands of his fellow veterans died by suicide after the war. Hundreds of thousands have been diagnosed with post-traumatic stress disorder (PTSD), a mental condition that can cause intrusive memories, flashbacks, guilt, shame, and jumpiness. Many more veterans suffer from traumatic brain injuries that can cause headaches and other physical symptoms as well as psychological problems, such as changes in personality and increases in risk-taking behavior.
While in New York, Mr. Richardson recovered at a veterans hospital. He still experienced severe head pain from his traumatic injuries in Vietnam and was known to shout "Incoming!" at random times. At the hospital, he was treated by a nurse from Dothan, Alabama. When the nurse moved back to Dothan, Mr. Richardson moved as well, hoping to establish a relationship with her.
They dated for a short period of time before she told Mr. Richardson not to contact her. Mr. Richardson began to think of ways to win back her affection but the plan he ultimately came up with ended tragically.
Mr. Richardson devised a bomb to place on the nurse's front porch and planned to detonate the bomb and then run to her aid to save her, like he had saved people in Vietnam. Then she would love him and want to be with him again. Sadly, after Mr. Richardson placed the bomb on the porch, a young girl named Rena Mae came outside, picked up the mysterious package, and shook it. The bomb exploded, instantly killing Rena Mae and injuring her friend who was nearby. Mr. Richardson, who had been watching from across the street, was horrified—that was not the result he had anticipated at all. He had not intended to kill anyone.
Mr. Richardson was arrested and charged with capital murder, which required the prosecution to prove that he intended to kill. At trial, the prosecutor painted Mr. Richardson not as a man who valiantly fought on behalf of the U.S. in one of this country's most brutal wars, but as an outsider from New York, an evil person, and an intentional killer. In an act of clear racial bias, the prosecutor removed all of the Black people from the jury pool so that Mr. Richardson was tried by an all-white jury.
Neither Mr. Richardson's military service nor the trauma resulting from that service were acknowledged at trial—a failure that's all too common, especially in cases involving Black veterans. His attorney presented no evidence of Mr. Richardson's background or military service. He presented no evidence of the childhood trauma or military trauma that Mr. Richardson had experienced, even though trauma was especially crucial in explaining his behavior that led to his being in court. Mr. Richardson was convicted of capital murder and sentenced to death.
EJI's Work
Following Mr. Richardson's trial, his attorney did not appeal his case and was eventually disbarred. In July 1989, after he'd  spent 11 years on death row, the State set an execution date for Mr. Richardson. He was to be executed at midnight on August 18, 1989.
Read Mr. Richardson's Clemency Petition
Mr. Richardson contacted EJI founder and attorney Bryan Stevenson, who worked tirelessly for the next few weeks to halt Mr. Richardson's execution. In his request for a stay of execution, Mr. Stevenson brought attention to the ineffectiveness of Mr. Richardson's trial lawyer, racial bias in Mr. Richardson's trial, inflammatory comments made by the prosecutor, and the trial attorney's failure to present evidence of Mr. Richardson's background, military service, mental illness, and trauma.
The U.S. Supreme Court denied the request for a stay at 7 pm on the night of Mr. Richardson's scheduled execution. Mr. Stevenson hurried to Holman Prison to be with Mr. Richardson in his final hours as he had promised. As they sat together, Mr. Richardson told Mr. Stevenson how strange the day had been. People had asked him all day, "What can I do to help you?" More people had asked what they could do to help in the last 14 hours of his life than had ever asked during the years that he struggled with trauma.
As the guards escorted Mr. Richardson to the execution chamber, "The Old Rugged Cross" played from a cassette player, as Mr. Richardson had requested. He was executed on August 18, 1989.