Elmore, Donaldson, and Bibb Correctional Facilities
EJI documented severe physical and sexual abuse perpetrated by officers and officials at three Alabama men's prisons.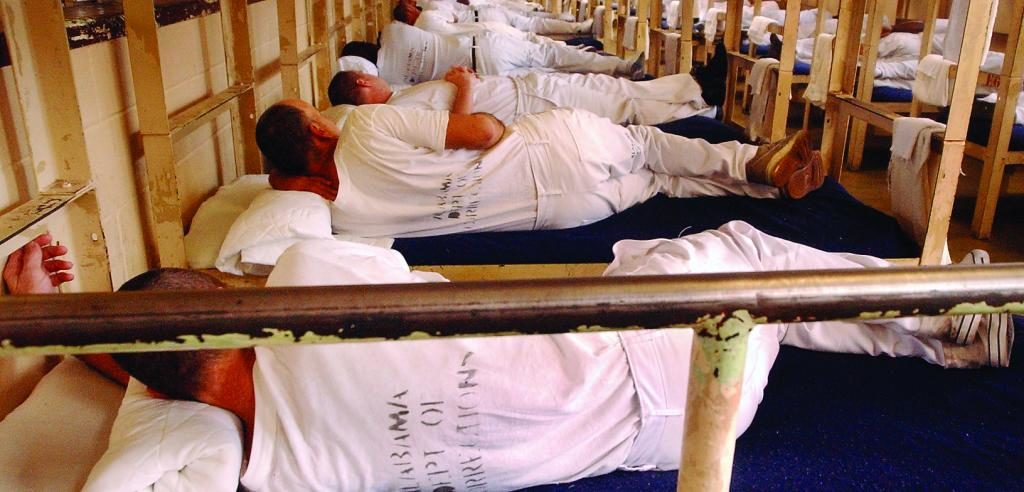 In 2013, EJI filed a complaint documenting severe physical and sexual abuse and violence perpetrated by several correctional officers and officials in three Alabama prisons for men.
Elmore Correctional Facility
We made allegations to the Alabama Department of Corrections (ADOC) of widespread physical abuse and misconduct at the Elmore Correctional Facility in Elmore, Alabama. In the preceding six months there were nearly a dozen instances where incarcerated men at Elmore were handcuffed, stripped naked, and then beaten by several guards.
At Elmore Correctional Facility, EJI reports that a group of officers have been taking inmates into isolated areas of the prison where they are handcuffed and stripped naked and then severely beaten. Several inmates have been so severely beaten that they have required hospitalization and suffered permanent injuries.
EJI's complaint implicates the warden and other high-ranking prison officials in some of the beatings and misconduct. A complaint about problems at Elmore has been made with ADOC officials and law enforcement agencies.
Donaldson and Bibb Correctional Facilities
EJI uncovered evidence that male officers sexually abused incarcerated men at Donaldson Correctional Facility in Bessemer, Alabama, and Bibb Correctional Facility in Brent, Alabama. EJI asked ADOC to investigate and protect incarcerated people from physical and sexual violence by prison employees at these facilities.
At Donaldson and Bibb correctional facilities, EJI reports that male correctional officers forced young incarcerated men to perform sex acts and threatened to file disciplinary charges against them if they refused or reported the abuse. In several cases, incarcerated men were forced to perform oral sex and were subjected to other forms of sexual abuse by correctional staff. Biological evidence supporting the sexual assault allegations has been turned over to ADOC authorities.
Culture of Impunity
Many Alabama correctional officers who engage in physical and sexual misconduct are transferred to new prisons rather than fired or criminally prosecuted. Several officers involved in beatings at Elmore reportedly were previously accused of sexual abuse of women at Tutwiler Prison for Women in Wetumpka, Alabama, or physical abuse of men incarcerated at other Alabama prisons.
"In a prison environment, a handful of abusive officers can get away with extreme cruelty and criminal misconduct when this behavior is tolerated or when correctional authorities do not vigorously and consistently eliminate officer-on-inmate abuse," said EJI Executive Director Bryan Stevenson.
"We have a lot of good correctional officers in Alabama but we also have too many that have engaged in excessively violent behavior with impunity. The dangerous culture this abusive behavior creates increases the risk of violence for other correctional staff and inmates and must be addressed."
History of Abuse
This complaint was the third time in two years that EJI reported on criminal mistreatment of incarcerated people by Alabama Department of Corrections staff.
In 2012, EJI reported a widespread pattern of sexual violence against women incarcerated at Tutwiler Prison for Women, which led the U.S. Department of Justice's Civil Rights Division to launch a formal investigation into the abuses.
Consultants with the Justice Department's National Institute of Corrections issued a report confirming EJI's findings that incarcerated women who report sexual abuse and misconduct at Tutwiler routinely have been placed in segregation, stripped of their property, denied contact with their families, and forced to submit to unwanted medical procedures.
In 2011, EJI filed a complaint with the Justice Department about the fatal beating of 24-year-old Rocrast Mack by correctional officers at Ventress Correctional Facility in Clayton, Alabama, and called for state and federal prosecution of those officers. Federal prosecutors eventually charged four former prison employees in Mr. Mack's murder. Matthew Davidson and Scottie Glenn pleaded guilty to civil rights violations and conspiring to cover up the crime; former corrections Lt. Michael Smith was convicted in federal court in Montgomery last month and former correctional officer Joseph Sanders entered a guilty plea yesterday.
"We have serious problems with overcrowding and underfunding and simply too many people in jail or prison who don't need to be there," said Stevenson. "Physical and sexual abuse of inmates by staff makes a bad situation intolerably worse and must be eliminated."