Diane Jones
Diane Jones was wrongly convicted of drug trafficking and sentenced to life in prison without parole. EJI won her release in 2006.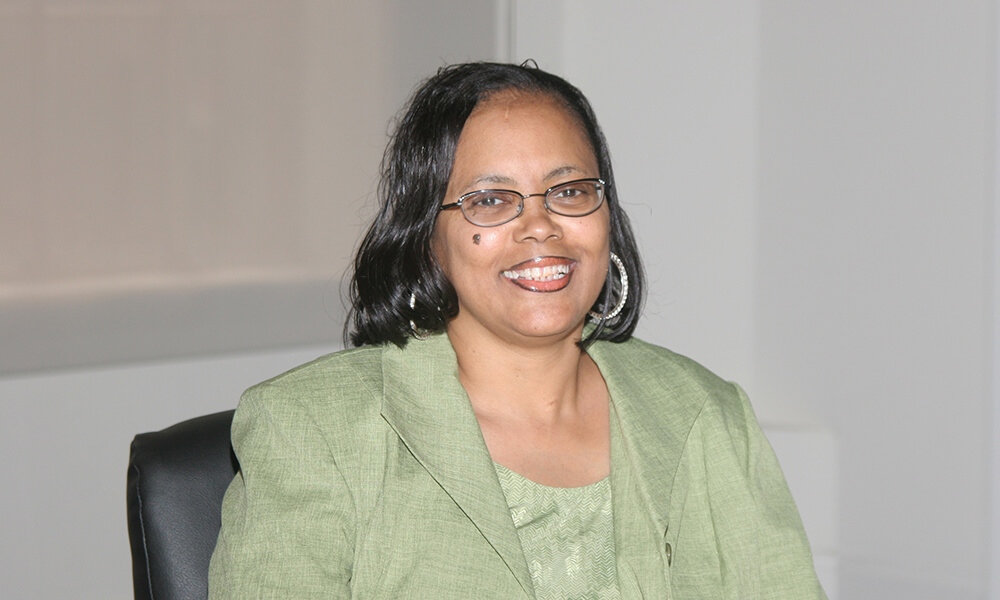 Lydia Diane Jones was released on August 17, 2006, after being sentenced to life imprisonment without parole six years earlier for a crime she did not commit. Ms. Jones became the first woman in Alabama to be released from Tutwiler Prison for Women after being sentenced to life in prison without parole.
Wrongful Conviction
In November 1997, Diane Jones allowed her former boyfriend, Ronnie Cook, to occupy her house after Ms. Jones and her children moved into her parents' home to provide care for her terminally ill father. Without her knowledge, Mr. Cook began using Ms. Jones's house to deal drugs.
On December 10, 1997, Ms. Jones returned to her former residence to gather clothing she had left behind. Officers from a joint federal and state narcotics task force that had been monitoring Mr. Cook made an unannounced forced entry into the house pursuant to a search warrant and interrogated Ms. Jones at gunpoint. She was arrested four months later and charged with drug trafficking even though she had long moved from the residence.
At her trial in October 2000, Ms. Jones was represented by attorneys who also represented Ronnie Cook on state and federal charges stemming from his drug dealing activities. Their initial defense strategy at Ms. Jones's trial was to have Mr. Cook admit that the drugs belonged to him and that Ms. Jones was not involved in any way.
But the defense attorneys abandoned this strategy mid-trial when the State made clear that it would prosecute Ronnie Cook if he testified. Counsel advised Mr. Cook not to testify at Ms. Jones's trial, leaving her with no defense. Mr. Cook pleaded guilty in federal court on other drug charges and was sentenced to eight years in a federal penitentiary. Because Ms. Jones's lawyers protected Mr. Cook, she was denied effective counsel and was convicted and sentenced to life imprisonment without parole.
The Habitual Felony Offender Act
Ms. Jones's harsh sentence was mandatory because of Alabama's Habitual Felony Offender Act (HFOA). One of the most severe laws of its kind in the nation, the HFOA at that time made no distinction between violent and nonviolent offenders.
In 1983, Ms. Jones had spent a year in jail after forging checks to buy groceries. For 17 years after that, she maintained a law-abiding lifestyle, raising her children as a single mother and avoiding any kind of legal trouble. Nonetheless, when she was sentenced in 2000, her prior convictions triggered a sentence of life imprisonment with no parole under the HFOA's mandatory sentencing scheme.
Obtaining Relief
Ms. Jones found EJI one week before a deadline that would have permanently barred review of her case in court. EJI investigated the case and filed a postconviction petition on her behalf.
After four years of litigation, EJI won a decision from the Alabama Court of Criminal Appeals on April 29, 2005, reversing Ms. Jones's conviction and ordering a new trial. The court agreed with EJI's argument that Ms. Jones's trial lawyers harbored an actual conflict of interest that violated her constitutional right to effective assistance of counsel.
EJI continued to represent Ms. Jones after her appeal, and on August 17, 2006, returned with her to the Jefferson County Circuit Court, where the trafficking charges against her were dismissed and she was released from custody.
Pardon
Since her release, Ms. Jones has lived with her children and her mother in Birmingham, Alabama. While working full-time and raising her family, Ms. Jones pursued her bachelor's degree in administrative office management and obtained her degree in September 2012.
EJI assisted Ms. Jones in petitioning the state for a full pardon. On September 27, 2017, the Alabama Board of Pardons and Paroles issued her a formal pardon. The Board's unanimous decision restored Ms. Jones's voting rights.