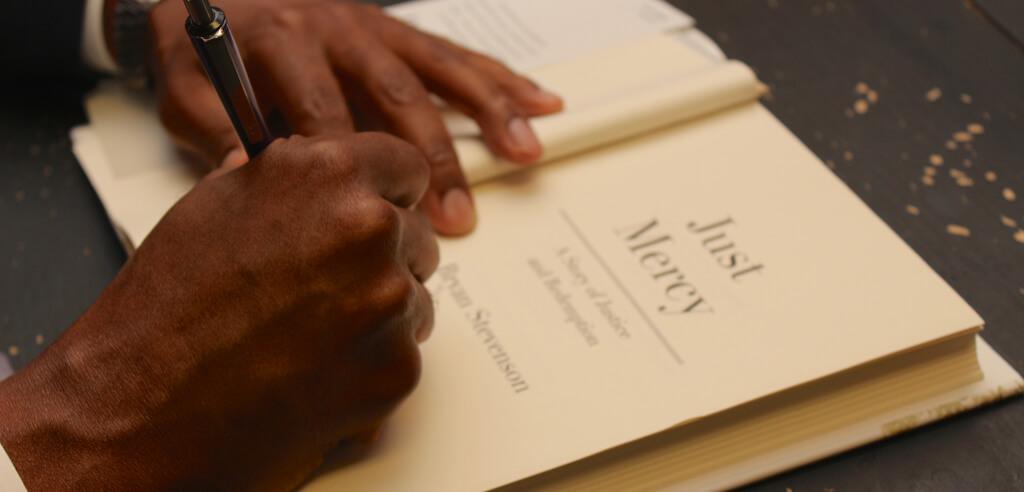 A powerful true story about the potential for mercy to redeem us, and a clarion call to fix our broken system of justice, Just Mercy is a New York Times Best Seller by Bryan Stevenson.
Bryan Stevenson was a young lawyer when he founded the Equal Justice Initiative, a legal practice dedicated to defending those most desperate and in need: the poor, the wrongly condemned, and women and children trapped in the farthest reaches of our criminal justice system. One of his first cases was that of Walter McMillian, a young man who was sentenced to die for a notorious murder he insisted he didn't commit. The case drew Bryan into a tangle of conspiracy, political machinations, and legal brinksmanship—and transformed his understanding of mercy and justice forever.
Just Mercy is an unforgettable account of an idealistic, gifted young lawyer's coming of age, a moving window into the lives of those he has defended, and an inspiring argument for compassion in the pursuit of justice.
Bryan Stevenson won the Andrew Carnegie Medal for Excellence and an NAACP Image Award for Just Mercy, which New York Times columnist Nicholas Kristof called "searing" and "moving." Just Mercy is the 2015 recipient of the Dayton Literary Peace Prize for nonfiction.
It has been named a New York Times Notable Book of 2014, TIME Magazine Top 10 Nonfiction of 2014, Esquire Top 5 Most Important Books of 2014, Washington Post Notable Work of Nonfiction, and an American Library Association Notable Book. A finalist for the Los Angeles Book Prize and Kirkus Reviews Prize, Just Mercy is also one of the Boston Globe Best Books of the Year and the Seattle Times Best Books of the Year.
Ted Conover wrote for The New York Times Book Review: "The message of the book . . . is that evil can be overcome, a difference can be made." The Washington Post Book Review says Bryan Stevenson is "a gifted writer and storyteller" and calls Just Mercy a "work of style, substance and clarity."
Interviews with Bryan Stevenson about the book have appeared on The Daily Show with Jon Stewart, NPR's Fresh Air, and in TIME Magazine.
Just Mercy premiered at number ten on the list of New York Times Best Sellers in Hardcover Nonfiction. It is included in the New York Times 100 Notable Books of 2014 list.
DESMOND TUTU, Nobel Peace Prize Laureate, said Just Mercy is "gripping" and "what hangs in the balance is nothing less than the soul of a great nation."
TRACY KIDDER, author of Mountains Beyond Mountains, called the book "important and compelling."
JOHN GRISHAM, bestselling author, said it was "an inspiring and powerful story."
MICHELLE ALEXANDER, author of The New Jim Crow, said, "Bryan Stevenson is one of my personal heroes, perhaps the most inspiring and influential crusader for justice alive today, and Just Mercy is extraordinary. The stories told within these pages hold the potential to transform what we think we mean when we talk about justice."
ISABEL WILKERSON, author of The Warmth of Other Suns, said, "From the frontlines of social justice comes one of the most urgent voices of our era. Bryan Stevenson is a real-life, modern-day Atticus Finch who, through his work in redeeming innocent people condemned to death, has sought to redeem the country itself. This is a book of great power and courage. It is inspiring and suspenseful. A revelation."